I believe I've written previously about the Traveler's Century Club, a U.S.-based club for individuals who have traveled to at least one hundred countries. We're nowhere near one hundred yet, but of course trying our best. We imagine that by the end of our trip we will be somewhere around 75, which is sufficient for an observer/provisional/half membership to the club.
One quirk of the Traveler's Century Club is that they have their own definition of what a "country" is for purposes of counting to one hundred. Not only are the usual sovereign, UN-recognized states included, but certain isolated or culturally distinct parts of countries are counted as separate "countries" (think Hawaii or Zanzibar). Also included as "countries" are certain individually administered regions of countries, such as the states of Sabah and Sarawak in Malaysian Borneo. So when our flight plans (on Air Arabia, on which I hope to blog later) gave us an opportunity for a stopover in the United Arab Emirates, I decided on a plan–a quick five country pickup. [See also my later post on our trip to the Musandam peninsula.]
The United Arab Emirates (or UAE), as its name suggests, is actually a collection of semi-sovereign states ruled by emirs/sheiks. Geographically from West to East, the emirates are: Abu Dhabi (sort of in charge and controller of much of the land area and oil), Dubai (the overdeveloped juggernaut and commercial center), Sharjah (a cultural center and now something of a huge suburb of Dubai), Ajman (tiny), Umm al-Quwain (also small, and most famous for its liquor store, the only one in the UAE), Ras al-Khaimah and Fujairah (on the east coast). Each ruled by a hereditary ruler, they joined together as a nation only in 1971-72. Prior to unification, each of these emirates, plus Bahrain and Qatar, had operated under a special quasi-colonial contract with the United Kingdom. Bahrain and Qatar formed independent states, while the remaining seven, by 1972, unified into one country, led by Abu Dhabi and Dubai.
The Traveler's Century Club counts each emirate as a separate country. Since we had previously been in Abu Dhabi and Dubai, that left five emirates, five new countries, for us, on a three day stopover. Five contries, three days? No problem–to drive in a small loop covering each of Sharjah, Ajman, Umm al-Quwain, Ras al-Khaimah and Fujairah takes no more than a few hours (leaving us plenty of time for our real destination, the Musandam peninsula of Oman, which lies directly north of Ras al-Khaimah). In truth, there isn't a whole lot to see in these places, although in general each emirate has a small fort museum and some other sites (Sharjah has perhaps the most for a tourist, although generally bad signage in the UAE makes places hard to find, especially in the tedious traffic). Some photos follow.
Sharjah skyline. It's not only Dubai that's building, building, building. Only a few kilometers away (although the few kilometers can take over an hour in the traffic), Sharjah is fast becoming a suburb of Dubai. Sharjah Airport is the hub of Air Arabia, a useful discount carrier in these parts.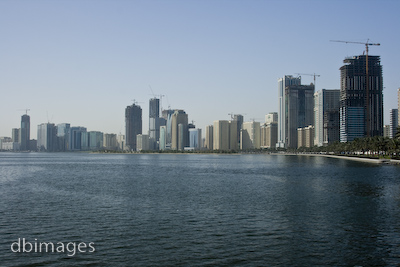 Umm al-Quwain's wall. It's the wall that's short, not the tower that's big.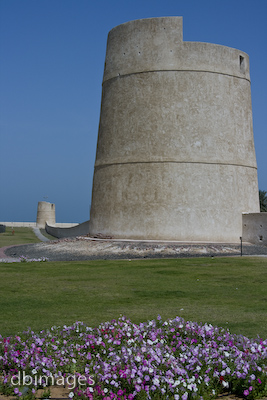 On the east coast (not sure whether technically in Fujairah or in Sharjah's east coast exclave), we were surprised to see a fishing routine remarkably similar to what we have seen in Varkala (please refer to earlier post of March 6)–except that in the place of two teams of men pulling the nets, two trucks were used. It being a Friday (part of the Muslim weekend), there were many sightseers out for the day who pulled up to watch the spectacle, including a gentleman from Kerala, who was as surprised as we to see what he thought was a Keralan technique being used in the UAE (albeit updated with mechanical power). He thought that it was perhaps experimental. Another (Indian) spectator explained to us that the technique, which was used all over the Indian subcontinent, was imported by the team of Bengladeshis who were handling the nets (with two Arabs running the trucks).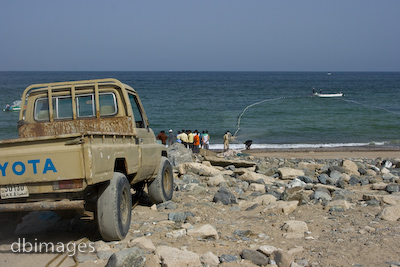 The catch was significantly better than in Kerala. [One gets the feeling in Kerala that the fishing is as much a matter of tradition as livelihood.]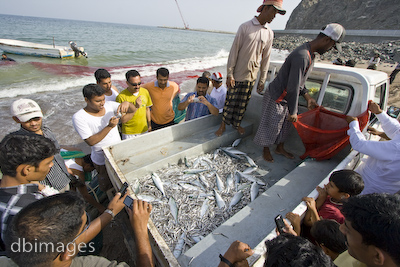 Every Friday at a designated area in Fujairah, local bulls are brought to compete in a test of strength and endurance, a game watched by hundreds of local men (and curious overseas workers/expats). The announcements were in Arabic, of course, but we were able to make out the gist of it with some help from another spectator. Each match lasts just a few minutes, with the bulls first induced to engage each other in head-to-head combat. The bull that moves the other bull backward wins, and then the bulls are pulled apart by teams of men. It was surprising how quickly the bulls would walk away from each other, once pulled apart (as if they realized that it was all a game, no real enmity). All in all, so much more humane than bull-fighting (no spears, stabbing, killing).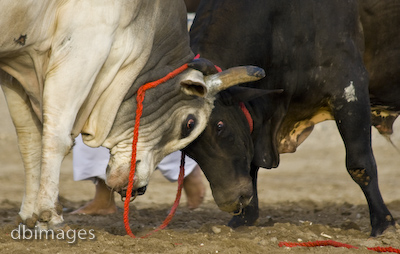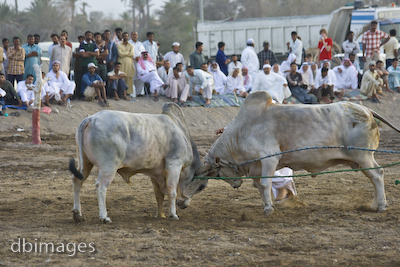 One note: Some of the people of the UAE (though since "locals" make up a small minority I'm not sure whether it's the Emiratis or overseas workers/expats to blame) drive extremely aggressively. Some of the worst in the world I've seen–shame on you!