A few kilometers from the famous caves of Ajanta (near Aurangabad and the nearly equally famous Ellora caves), we just checked into a (Maharashtra) state-run guesthouse, by the name of MTDC Holiday Resort. We chose this place because it is one of relatively few near the caves and affordable (Rs. 600, or around $15). As it turns out, it's a terrific value–complete with clean sheets (two per bed, top and bottom), soap *and* toilet paper provided (only the second hotel we've stayed in so far that provided toilet paper, and the first was the Marriott in Hyderabad (free certificate I had)), three chairs and a desk, plenty of power outlets…and…air conditioning. [This list gives you a sense of where our standards are about a month into India.]
As a (moderate) budget traveler in India, one is constantly faced with the option: AC or non-AC. There are AC and non-AC hotel rooms, often at the same hotel and sometimes the same room is available as AC or non-AC (you just pay extra to have it powered on), there are AC dining rooms at restaurants and there are AC and non-AC coaches on the train, the AC sleeper classes being First Class, AC 2-Tier and AC 3-Tier and the non-AC sleeper class being "Sleeper." Other than restaurants, where the AC premium is usually quite small, AC commands a steep premium. I'm not exactly sure how the train formula works, but Sleeper costs well less than half of AC 3-Tier, which is pretty much the same as Sleeper other than the air conditioning and free provided bedding. (We just took a 10 hour ride from Hyderabad's Secunderabad Station to Aurangabad in Sleeper class for less than Rs. 500, or $12.50–AC, which was not available, would have cost more than twice as much). And for rooms, the AC surcharge can be as much as Rs 400-600, or $10-15, which is sometimes almost as much as the total rent for the non-AC room.
So what do you get for this hefty premium? In the case of the AC hotel and train car, the real benefit is not, surprisingly, climate control. Even though India can be hot, and it's been fairly hot during the day (the sun has lately been especially scorching), evenings spent in a well-ventilated room with a ceiling fan are fairly comfortable, while AC without proper controls can be unpleasantly cold. [For restaurants, especially at lunchtime, I would have to admit that the cool temperature is a primary plus of AC.] The real benefit is seclusion from the outside. In the case of hotels and train cars, AC means that the room or car has been effectively sealed off from the outside, such that not only hot air, but more importantly noise, dust and bugs don't come in. Riding in an AC automobile (a rare occurrence for a budget traveler in India) puts you at least three steps away from the city at large, allowing you to breathe cool filtered air in relative quiet and peace, without the fumes and erratic driving of an autorickshaw or the constant panic of being run over or stepping on animal dung as a pedestrian. No beggar can reach through your closed window, and even the sunlight is generally filtered through tinted glass. AC train cars also give you a (perhaps false) sense of security that the car is more secure and your neighbors more trustworthy (less risk of being drugged by your neighbors, as many signs remind you happens).
Promoting railway safety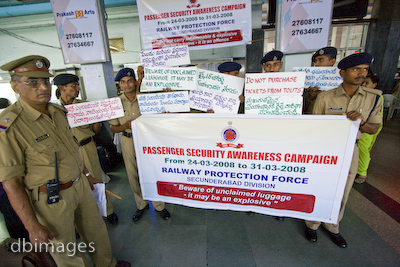 Back home, of course, climate control isn't optional–you're almost always in hermetically sealed environments, where temperature, humidity, particulates, etc., are all controlled by machines. At least purportedly, this is for our comfort, and admittedly in many cases we wouldn't find it tolerable to spend our time at the outside ambient temperature. Just as AC in India isn't all about climate control, however, AC back home isn't all about comfort.
Many places that we spend time in have had their physical environments calibrated to achieve a certain effect on our psychology. Visiting one of the huge spas in Shenzhen, it occurred to me how much like a Las Vegas casino it was. Completely sealed off from external light, there was an eerie timelessness, like time is standing still to enable you to get a continuous series of massage treatments. And people do–the spas are open 24 hours, and busy at all hours of the night and day (just like casinos). Of course, the general aim in both places is to keep you inside longer, unaware of the passage of time, spending money. To a lesser extent, what is true in casinos and Shenzhen spas is true in shopping centers and workplaces. With limited access to natural light, and usually no access to outside air, the focus is on what is happening inside the complex (whether spending money or working), and not outside. In the office, there are free caffeinated beverages, to promote speed and efficiency. I do not mean to sound like a conspiracy theorist, but this is of course true.
I have a curious evolutionary theory of human happiness, and that is that we're happiest when we're to a certain extent fulfilling our biological mandates (breeding, spending time with family) and in our natural environment (grassland or forest or whereever, outside). The experience of weather can be evocative and emotional, and few things are more pleasant than being in the shade on a warm day, with breeze on our skin. By no means do I mean to forgo air conditioning for the rest of my life–but applause to those countries that have mandated natural air and light in human environments, and let us all think about the climate spaces that are created for us, and why.
How happy do these dogs look napping in the shade–how often do we humans experience such bliss?