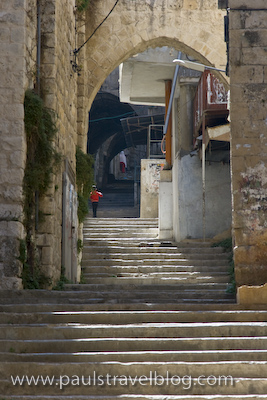 We had built Israel into our itinerary not only because we wanted to visit the great city of Jerusalem, one of few cities throughout history that could claim to be at the center of the world, but also because we realized that to understand the Middle East would be impossible without having at least a minimal understanding of its greatest conflict. On our way out of Jordan, we decided that seeing Jerusalem and Israel would not be enough–we had to visit at least a small part of the occupied Palestinian Territories. And so, having crossed over from Jordan into the West Bank on the King Hussein Bridge, we made our way not straight to Jerusalem, as so many tourists do, but to the ancient city of Nablus, located about an hour and a half north of Jerusalem.
Getting there was a bit of an adventure, as few tourists make their way to Nablus. First, we had been given the impression that Israeli immigration and security forces, who control all access into and out of the occupied West Bank, prefer that tourists not visit the West Bank at all, and would give us a hard time if they knew of our destination. This meant that we were less than totally straightforward with the Israeli immigration authorities about our plans (especially since, with our Lebanon, Syria and Iran entry stamps, it still took us an hour and a half to clear immigration, albeit an improvement over the three hours and questioning that our last entry into Israel entailed) and that we didn't want to linger in the border area asking around how best to get to Nablus. We got on the first bus out of the controlled area, to the West Bank town of Jericho. (Our fellow passengers on the bus assumed that we had made a mistake, that we must have wanted the bus to Jerusalem, because again, this was an unusual thing for foreigners to be doing.) In Jericho, we found share taxis to destinations all over the West Bank, but, with no Arabic on our part and no English on the part of the drivers, communication was a challenge. We received the assistance of a young Palestinian-Swedish man, also headed to Nablus, who helped us establish a price for the ride (later footing some of our bill as we did not have enough local currency) and upon arrival helped us find a hotel room–far better than wandering around in the dark, without a guidebook or a map, armed only with the downloaded Wikitravel entry on the city.
When we woke up, we found not only a charming old city, reminiscent of Damascus and Aleppo in authenticity and beauty if not scale, but also a unique travel experience, that of having a worthy, not-so-far-flung destination nearly all to ourselves (we saw exactly four other foreign visitors in our two days in Nablus), the recipients of so much curiosity and hospitality.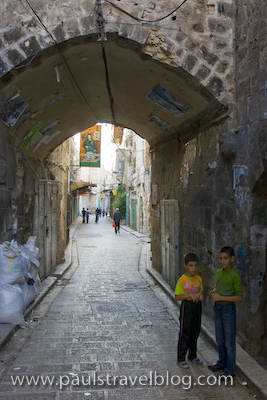 As you probably know, the modern state of Israel is a 20th century creation, established in 1948. It was only after some fifty years of Jewish migration into Palestine, political lobbying by Zionists led by Theodor Herzl's World Zionist Organization and Jewish agitation, including a series of terrorist attacks against Arab and British targets in the 1930s and 40s, that Britain and finally the UN gave its assent to the creation in Palestine of a nation for Jews. Prior to the mid-19th century, not since Roman times had significant numbers of Jews lived in what is now Israel, and even as late as the late 1930s the Jews in Palestine were a small minority among the region's Arab residents. That being the case, all old cities in Palestine (not only those in the Palestinian Territories but also those in the state of Israel) are Arab cities, even if located on or near the sites of yet older Jewish, Roman or Crusader ones, and Nablus is among those cities perhaps the most atmospheric.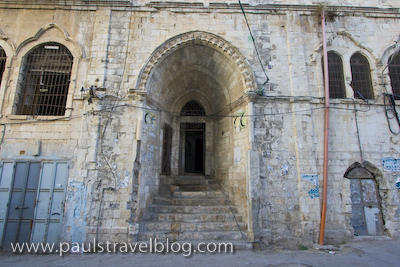 The old city of Nablus may not be as large as that of other Middle Eastern cities, but, with its alleys, markets and staircases leading into the hills, it is, as one Englishman described to us, big enough to get lost in, and, especially in light of the conflict it has seen, surprisingly intact. In the narrow streets are small architectural details that one wonders the provenance of, markets full of goods and produce and great mosques built on Crusader churches.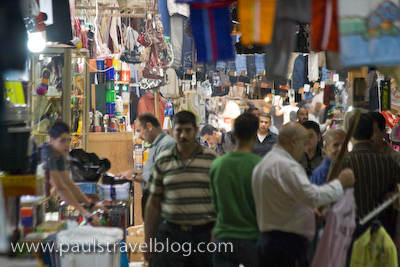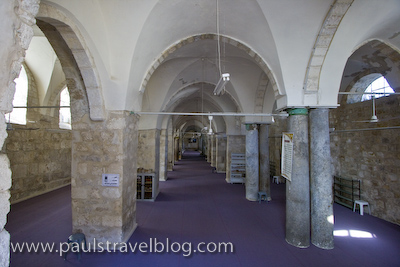 Outside of the historical center, a more modern city of surprising liveliness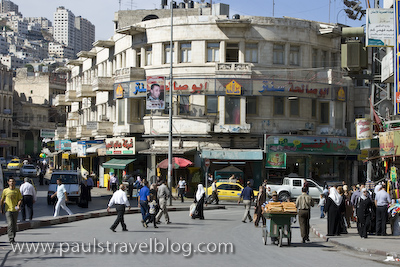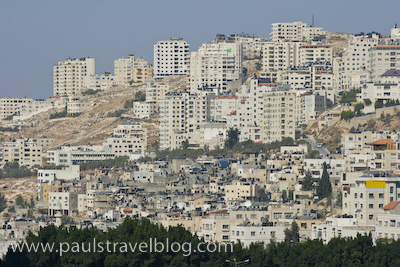 To be a tourist in Nablus is to be an object of great curiosity, as very few tourists make it into town (perhaps in part due to warnings such as the one from the British Foreign and Commonwealth Office that, particularly in Nablus, "terrorist groups maintain the intent and capability to kidnap foreign nationals"). Palestinian hospitality was comparable to the generous treatment we encountered in Syria and Iran. We were greeted warmly, often offered tea and snacks and even driven around town for sightseeing. The generally civilized behavior extended to little children–one boy eating from a little bag of chips not only very formally offered me some, insisting when at first I declined, but placed the rest of the bag in my hands when we parted, as if to provision a traveler. Never were we overcharged. It was a world of difference from the sometimes indifferent hospitality one receives in Jordan from the largely Egyptian staff of restaurants and hotels, and another indication of the manners that can become infused into an entire culture.
Some Nablus sights:
Roman theater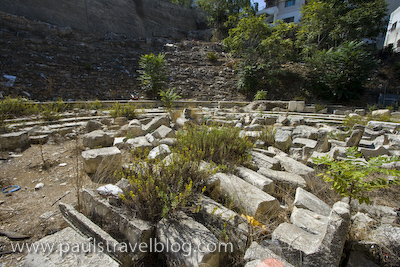 Jacob's Well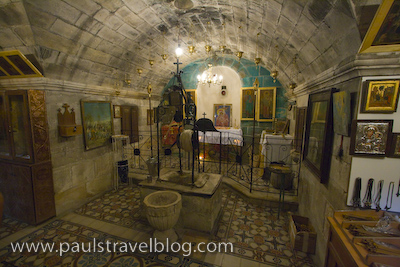 Nablus is famous for its sweets, its hammams and its olive oil soap–the same as could be said of many Syrian cities (and in fact Nablus has been called Little Damascus). In medieval times, no doubt being known for such luxuries was akin to how we now think of New York for its restaurants, Bali for its spas and France for its perfumes.
Hammam al-Shifa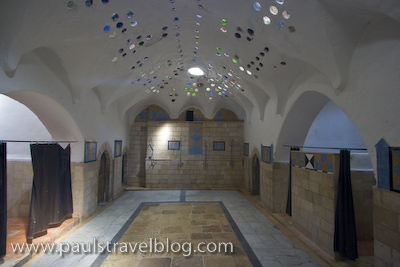 Nablus is especially known for its kanafeh, which is eaten throughout the Middle East. It tastes kind of like a grilled cheese sandwich soaked in honey.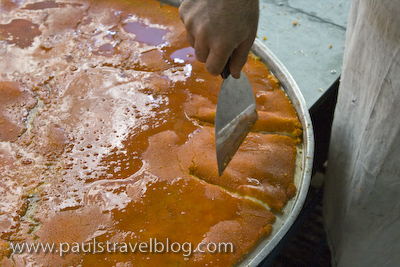 But of course the great sights of Nablus are today, sadly, only half the story. Nablus has been one of the cities of greatest conflict between the Palestinians and the Israelis, a center of Palestinian nationalism and militancy and one of the cities most targeted by Israeli forces in terms of both military aggression and intimidation. The troubled state Nablus is in cannot be forgotten, even by the casual tourist, as damaged areas of the city remain and conversations often turn to politics, the current relationship between Israel and the Palestinians, and, with us, the American relationship with Israel.
Israeli forces surround the town with checkpoints and have ultimate say over who gets in and out. In the words of the Palestinians, to live in Nablus (and the West Bank as a whole) is to live in a prison. One Brit teaching in the West Bank that we met said that he was cautious about voicing political opinions for fear that the Israelis would refuse him entry into the West Bank. We were also told that armed Israeli soldiers enter the city at will, usually at night, to take away suspected activists and militants.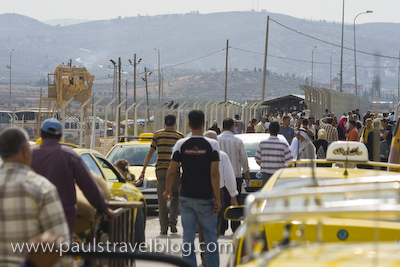 Balata Refugee Camp, the largest of the UN-run camps populated by Palestinians displaced after the creation of the state of Israel. Note the tattered posters for fighters on the wall–other than these, we saw no sign of militancy whatsoever in the West Bank. Our memory of Balata will be of a local woman who offered us a couple, and then at our approval insisted we take a bunch, of homemade cookies akin to super-dense Fig Newtons.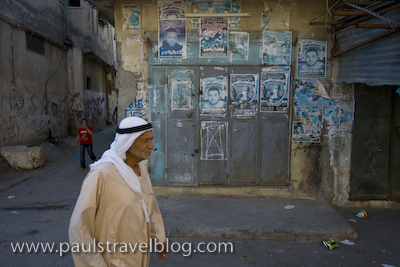 Our visit to the Tomb of Joseph (of the technicolor dreamcoat) revealed to us in part the control that the Israeli forces have over Nablus. Joseph's Tomb is a holy site for Jews but not for the Arabs, who believe the tomb to be that of an old local man and not the biblical prophet. In retaliation for Jewish violence (which in turn was presumably in retaliation for or for the prevention of Palestinian violence, and so on), some Palestinians destroyed the site with a bomb. Israeli forces now require the Palestinians to keep a close watch over the site (which Jews still visit in secret in the middle of the night), and all visits are coordinated with the Israeli military, which has line of sight control over the area. When we arrived at the tomb, Palestinian security approached us and radioed the Israeli soldiers on the hilltop for permission to allow us in. Once our visit was cleared, we ventured into the burned out shell of the tomb. We were shown holes in the wall that the Palestinian soldiers said were caused by worshipping Jews pounding their heads into the wall, as well as scraps of prayer that recent Jewish worshippers had left behind. The soldiers described the destruction of the tomb, not without a small amount of admiration for the damage the blast had caused.
Joseph's Tomb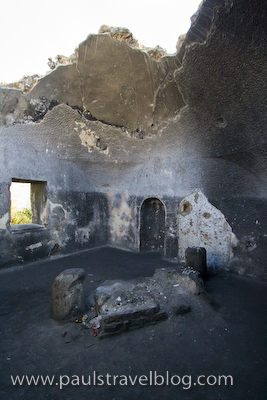 On our way out of the tomb, Derek hopped over a small wall to walk around the structure for another camera angle. The Palestinian soldiers were surprised and quickly warned with the gesture of a rifle being fired and then pointing at the hill that there was a chance the Israelis might shoot him. Deeming that unlikely, Derek took a few pictures and safely climbed back.