I've written before about what it's like to be an American traveling in the Muslim world (see posts of 4.9 and 6.6), but in this post I thought I would share some more thoughts on what it means to be an American in the world today, especially after the election of Barack Obama (also see posts of 10.25 and 12.15).
This topic has come to mind yet again because we are in Nouakchott, Mauritania. Why, you may ask? Nouakchott is a fairly small city, being the capital of a country of only 3 million or so inhabitants, and its city center, however sprawling, is built on a fairly small number of avenues–but one of them is named for U.S. President John F. Kennedy.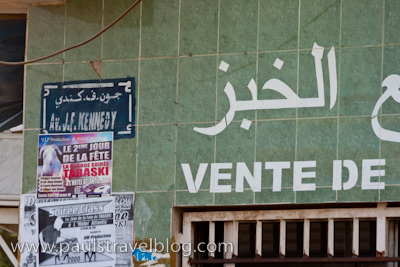 This is one of many, many JFK roads throughout the world. Off of the top of my head alone, I can think of roads named after Kennedy in Paris, Buenos Aires and Istanbul, and I have no doubt that there are dozens of other cities around the world. Why is JFK so popular? Part of it no doubt has to do with the heroic stature given to him by his assassination, but it is also because of the hope that Kennedy represented to the world, how he presented America in its most flattering aspects and facets.
It is hard to imagine any country naming any street for the current U.S. President (although the San Francisco sewage plant would have been a good start–link). He is so reviled that reaction to his reign has gone from opposition to sheer bewilderment, a wonder that one person could be so ineffective, his actions at times so seemingly aimless and at others so incredibly hostile to global peace and prosperity. Before the November election, people would often respond with a one word question/statment/accusation when we said that we were American, "Bush?" They wanted an explanation, maybe even an apology. They wanted to know if we as Americans approved of the actions taken by our elected leader. We have had to answer for his actions, apologize for the state of our government, in such enlightened regimes as Uzbekistan, Pakistan, China and Iran. Imagine our position! People whose own countries torture, imprison citizens without a right to trial, push a very particular religious agenda, restrict all sorts of freedoms, people from autocracies and theocracies, were telling us how bad our government was–but, see, the thing is, they were right; the U.S. had fallen so far from it purports to be.
Yet we are happy to report, as I have explained in previous posts, that there are incredible reserves of goodwill built up for America and Americans, all over the world. Almost everyone reacts positively to us when we identify ourselves as coming from New York, not only with general politeness but with genuine enthusiasm for America and things American. It is just bewildering how often the stars and stripes is used as decoration in West Africa–the motif recurs at least a hundred times more often than the tricolore of the Republique Francaise and at least as often as the colors of the local national flag. (I'm not sure who we have to think for this goodwill–Peace Corps volunteers?)
In a Dakar taxi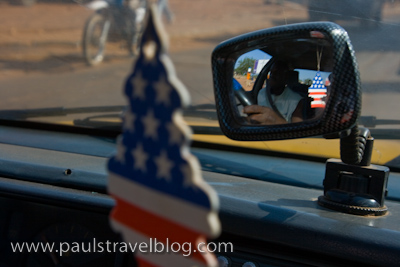 A Malian truck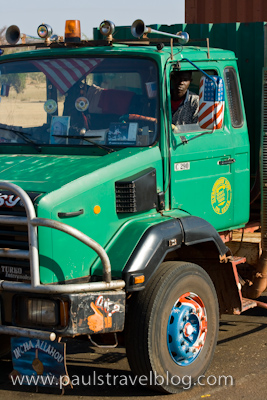 And, for all of the horribleness of the last eight years, I think that Bush's reign has in some ways strengthened American prestige. The truth is that, in recent years, there has been much to challenge American hegemony. The nuclear rise of India and Pakistan, and the efforts of North Korea and Iran, challenged American control over non-proliferation. The economic rise of China put into doubt American commercial dominance. The rise of the price of oil and the fabulous accumulation of wealth in the Gulf created an entire class of super-rich well outside of the western Christian world sphere. The creation and rise of the euro created a currency to seriously rival the U.S. dollar. What have Bush's disasters taught us? America may not have the strategic and political acumen to win wars and build strong and sympathetic regimes in Iraq or Afghanistan, but it sure has the resources and military power to create chaos all over the world. America may no longer lead the world economy in its growth but miscalculations by America's greedy/idiot barons of finance can bring the global financial system to its knees, and reduced spending by American consumers can close factories across the world. The euro may be more valuable than the dollar but, in a time of true crisis, the dollar is still the ultimate safe haven.
In short, there is a new recognition of America's significance in the world–that things have to go right in America for things to go well elsewhere. Currently, it seems that almost everyone in the world wishes America and its new President well–Bush may still be President, but we are now met by "Obama!" in a congratulatory or approving tone–and hopes that America can succeed, so that instead of dragging the world down with it, it can lift the world up. Maybe, hopefully, Obama will prove so popular that Obama rues and avenidas and strasses and sharias and margs and daos sprout up all over the world. Hopefully, he'll be able to realize the dreams he currently represents not only for Americans but for so many around the world.
Inshallah.