Alamgir Mosque, rising above the ghats on the right. The mosque is said to have been built by Aurangzeb on the site of a former Hindu temple and so is a point of contention–police guard the building against attacks. The minarets have been shortened in order to reduce the building's profile.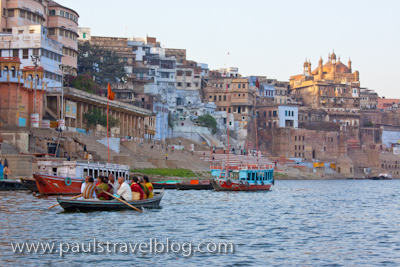 Varanasi is of course one of Hinduism's holiest cities, and so nearly all of a visitor's time in Varnasi is spent in marvel at the Hindu activity in the city–navigating the chaos surrounding the Golden Temple, watching the morning bathers on the ghats and listening to the nightly puja. Stay for slightly longer in Varanasi, however, and one quickly comes to realize that the city also has a substantial Muslim population (one estimate is one third of the city). Muslims can be seen around Munshi Ghat and the neighborhood nearby as well as in other distinct Muslim neighborhoods not far from the Hindu core of the city. Given the general theme of our trip, we wanted to seek out the Muslim population of Varanasi, and so spent an entertaining afternoon chasing skullcaps and mosques.
The Muslims of Varanasi are often seen around town, riding rickshaws and at Muslim restaurants.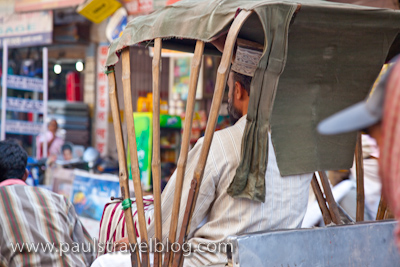 Munshi ghat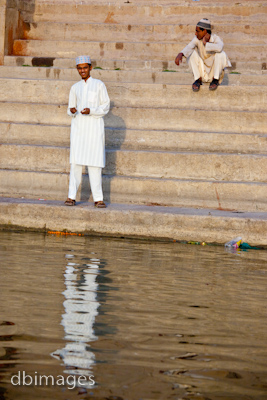 This mosque is not far from the heart of the old city.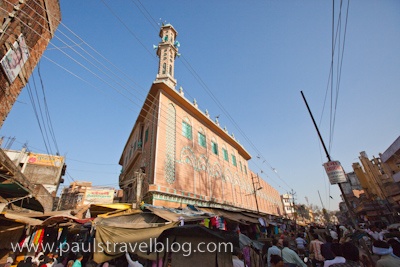 Weaving in Varansi–of the famous Baranasi saris–is a Muslim domain, and somewhat inland is an entire Muslim neighborhood dedicated to weaving.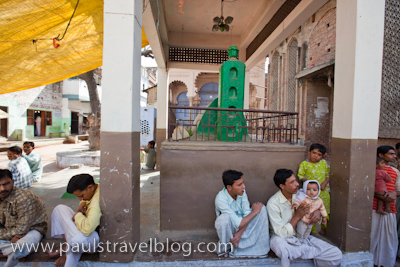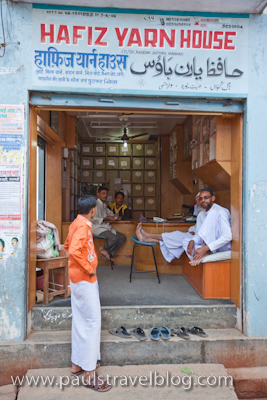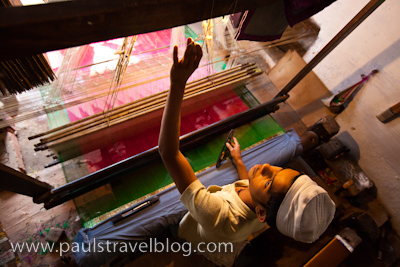 Note the decidedly "Muslim" door–not dissimilar from ones you would find in Central Asia or the Middle East.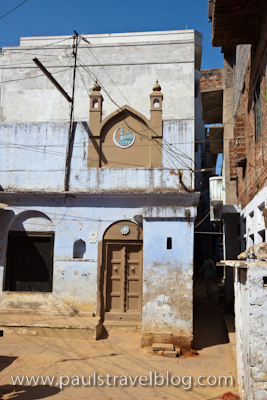 The banner advertises a Muslim school named after famous Indian Muslim leader Sir Syed Ahmed Khan, founder of Aligarh Muslim University.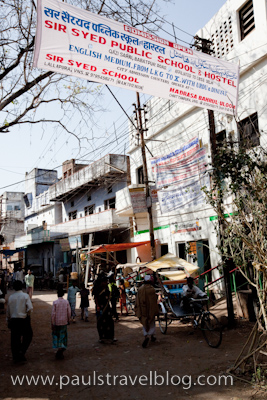 As in many other places in India, one is left to wonder what Muslim Varanasi was like before the Partition. Were there substantially more Muslims? Was it the better educated or more well-off who left? Was life more difficult for those who stayed behind, or worse for those who left? Muslim India, and therefore India as a whole, is in many ways only a fragment of what it was, because it was so abruptly and cruelly divided. What would peaceful coexistence, if possible, have looked like?