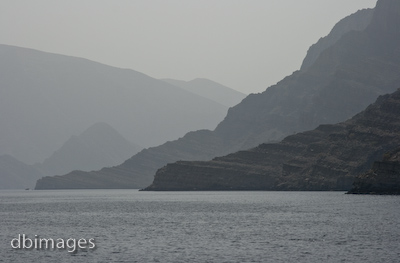 Geographical extremities have always intrigued me, as I believe they do many people. When in Argentina I wanted to travel down to Tierra del Fuego (although I did not make it), I've always been curious about the tips of the Florida Keys, Long Island, Cape Cod, Baja California and the Aleutians (zero for five) and earlier on our trip we went to Cape Comorin in India. So when our flight plans gave us an opportunity for a UAE stopover, I knew instantly where I wanted to go–Oman's Musandam peninsula, which lies on a tip of the Arabian peninsula. [See also my earlier post on "The Other Emirates"–but most of those are on the way from Dubai to Musandam.]
The Musandam peninsula is the portion of the Arabian peninsula that breaks the Persian Gulf from the Arabian Sea, jutting toward Iran and defining the strategically important Strait of Hormuz through which so much of the world's oil travels. Part of the Sultanate of Oman (although it is separated from the rest of Oman by the UAE, just as Alaska is separated from the bulk of the U.S. by Canada), the Musandam peninsula entices not only through its extremity location but with its wild, mountainous fjords and isolated villages (one, Kumzar, is so remote that it has its own language and is even now reachable only by boat). I was first made curious about the Musandam peninsula when visiting Oman in 2005, but the Musandam peninsula is much more quickly and easily reached from the UAE than from the rest of Oman (although there are some flights from Muscat), and so perfect for a Dubai QuickTrip.
First, we had to sort out which car rental company would let us take cars into Oman (there is no public transportation to the Musandam, and not having your own transport in Oman somewhat defeats the point of traveling there). Each company seems to have a different policy. Some won't let you take the car into Oman at all, and others let you but only through one border (which takes you into the main part of Oman and not the Musandam). Of the ones that allow travel to Oman, some charge a mandatory insurance fees, others insurance in addition to surcharge on the rental, while a couple local companies didn't require insurance or suggested that we buy it from a third party (there are offices at the border selling temporary insurance much like Mexico insurance sold at U.S./Mexico borders, and Oman requires that you be covered one way or another). We settled on Dollar, which imposed a relatively small insurance charge of 150 dirhams (a bit over $40) and seemed otherwise reliable. [We actually spent a good part of a frustrating morning trying to rent from a local company in Sharjah, but we couldn't get the deposit mechanics to work out given our short stay–they didn't take credit cards–and the thoroughly incompetent local employee acted like he was stoned ("Where the car? Where I put the car?").]
The three or so hour drive from Dubai through the emirates of Sharjah, Ajman, Umm al-Quwain and Ras al-Khaimah is, for the large part, fairly uninteresting. The UAE is of course a modern and wealthy country, and each emirate has a fort or two, but the terrain is generally flat and not too beautiful, and marred by relatively unattractive development (the "other" emirates are visibly not as well off as Dubai and Abu Dhabi). The landscape changes almost instantly as you cross the border into Oman after paying a 60 dirham fee to exit the UAE and a 20 dirham fee to enter Oman (a little over $20 total). Driving the relatively new road from the Omani border town of Tibba to Khasab, the road's end near the tip of the Musandam peninsula, you instantly know and feel that you are in rugged, beautiful and spacious Oman, a land of mountain forts and wadis facing the sea. For most its length the road hugs the base of cliffs, and occasionally rises up and over them, passing through quiet towns and within sight of the occasional fort.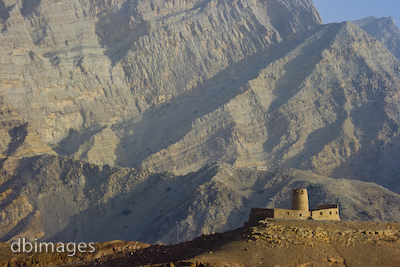 Our previous visit to Oman made us great fans of the country, and the Musandam peninsula does not disappoint. Just as in the rest of Oman, you find a gracious people, warm with hospitality (and the men particularly elegant in their clean white dishdashas and embroidered hats). There is none of the traffic, aggressive driving and sometimes senseless seeming overdevelopment of the UAE, but there is still a feeling of progress, with a focus on social development. You feel that the country spends its relatively limited oil revenues wisely, investing in its citizens and promoting a level of self-sufficiency (although there are still many overseas workers).
But back to the peninsula. Separated from the rest of Oman, the Musandam faces seaward, toward the Strait of Hormuz. Much of the local economy is catered toward trade with Iran, taking the form of small-time Iranian traders taking speedboats 45 kilometers across the Strait, trading Iranian sheep and goats for all manners of goods, from electronics to American cigarettes. [We were told by one local that she's seen the boats taking exercise machines.] Unfortunately, perhaps because it was Friday, we didn't get to see much of the trading activity, or the Iranian traders, who according to Lonely Planet are identifiable by their "lusty mustaches," although we did seem some speedboats rushing north.

The town of Khasab has some sightseeing (typically, the fort is the main attraction), but no trip to the Musandam would be complete without a tour by boat. The well-run Musandam Sea Adventure Company (tel: +968-2673-0424, with an office in the old souk) offers full-day dhow tours for 20 Omani rials per person (about $65). The boats leave around 9:30AM and return around 4:00PM, for a cruise around Khor (or Fjord) Ash Sham, which winds among remote villages where water is delivered by boat and children commute weekly to school. A couple stops are made for swimming and snorkeling (equipment provided, but not too much to see), and a generous lunch served onboard (drinks and water also provided). The weather was gorgeous and the boat ride scenic and very pleasant.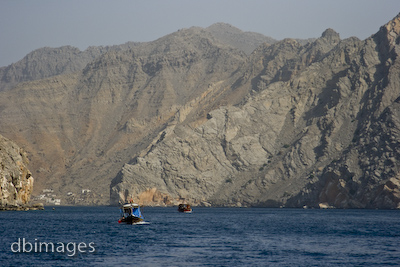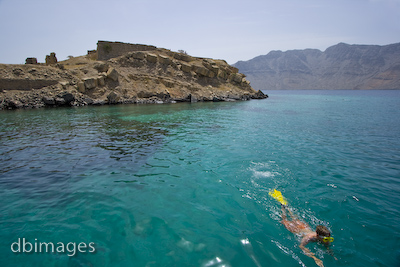 One highlight of the boat ride is dolphins, which we were told are seen almost every day. A few came up to swim along the side of our boat.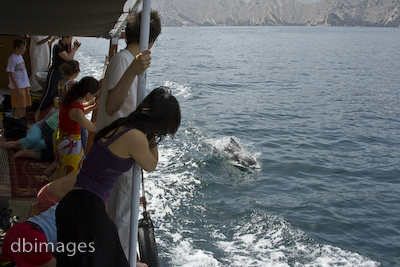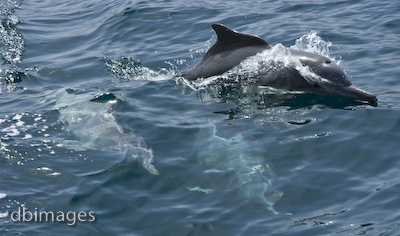 Our choice of lodging, the Lake Hotel, was definitely overpriced at 30 Omani rials (around $80) after bargaining. I believe the Khasab Hotel charges slightly higher rates but is likely nicer, or you can stay at the upmarket Golden Tulip on the road into town.
Perhaps not a great destination to travel far, but a wonderful escape for a QuickTrip.