Every Columbia undergrad, reading Kerouac's On the Road in his or her Literature Humanities ("Lit Hum") class, fantasizes that he and his circle of friends will form the core of the next Beat Generation. Indeed, even before college, I read Burroughs' Naked Lunch, which I found bewildering but also enticing, with all of its deranged fantasies. Hopefully it's not what I based my senses of literature or sexuality on, but Kerouac and Burroughs definitely played a role in my adolescent imagination.
And so, finding myself in Morocco, I could not help but make a pilgrimage to those Tangier ("Interzone") locations so infamously tangled with the short-lived American social/literary movement referred to as the Beat Generation, as much a part of its history as New York's Morningside Heights or San Francisco's North Beach.
It is certainly a treat for the fan of history that it is possible to stay at the very house in which William S. Burroughs lived during his Tangier days, the Villa Muniria. Of course, Tangier was then a very very different place from what it is now–the culture of drugs and prostitution of the Interzone has been largely replaced by what is a pleasant and decidedly unseedy medium-sized city, especially for a border town. According to my guidebook, the Villa Muniria was then owned by a procurer of male prostitutes, certainly a welcome convenience for Burroughs. The Muniria Inn is now a quiet, reputable, family-owned pension. We were not given one of the rooms reputed to have been stayed in by Burroughs and Kerouac.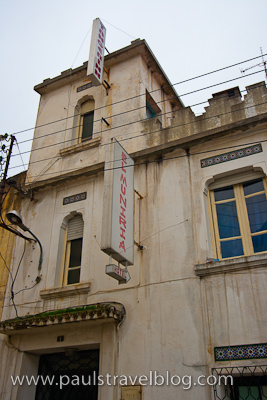 Room 9, in which Burroughs is said to have written Naked Lunch.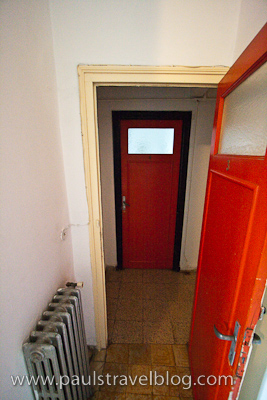 Attached to the Muniria is the Tanger Inn, a local drinking establishment. I thought that the young international crowd at the popular bar resembled something like the present-day counterparts of Kerouac and his friends, but that comparison only served to remind me how dull, how devoid of imagination and possibility, the world of the 90s and the present seems compared to that of the late 50s or 60s.
At the heart of Tangier's Medina lies the Petit Socco, the pleasant appellation of French and Spanish or Italian derivation for what was once the "little souq." We were a bit surprised and amused to see that it is still a center of drug culture–we read that people openly smoke the kif and in our few minutes there saw a dealer and transactions taking place.