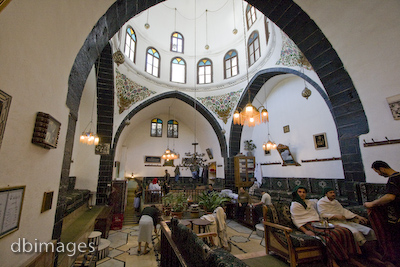 Public bathing is a part of many cultures, from Scandinavia to East Asia. (I grew up going to public baths and love a good scrubbing.) Perhaps the most famous bathing culture, however, is the Roman one (I and many others probably have been in almost as many Roman bath ruins as actual functioning modern baths), which survives today all over the Middle East (though, as far as I know, not in Italy). In this post, I thought I would describe the experience of visiting an Arab hammam (pretty similar to Turkish hamams, at least from my limited experience).
In Syria, hammams are located all over the older parts of cities, sometimes just blocks from each other. Some hammams, especially the older and nicely refurbished ones located in central areas, attract some tourists and are accustomed to our relative inexperience with bathing protocol. Although some hammams have occasional hours for women, public bathing is more a masculine habit.
You enter the hammam, which is often located a few steps under street level, into a large open room (in Latin, apodyterium), which has platform seating lining the walls. This is the room in which you start and finish your hammam experience, in the beginning by removing your clothes. A hammam attendant furnishes you with a towel that you use to cover yourself at all times in the hammam (despite the fact that you are in a male-only environment, being completely naked is forbidden–more on this below).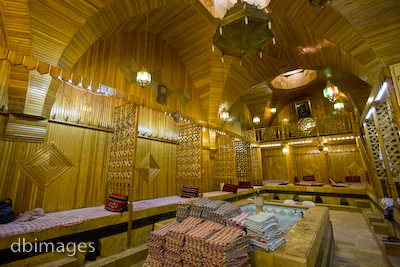 From that open room, you go through a series of sequential rooms, ranging from cool (in Latin, frigidarium) to warm (tepidarium) to hot (caldarium). There are small rooms branching out, where you do most of your washing by scooping water from drainless basins that you fill with faucets. There is usually a steam room as well. In the Turkish baths I have been to, there is a large (often octagonal) marble platform in the central domed chamber, on which you can rest, and be scrubbed and massaged by attendants. In the Syrian baths I have been to so far, there is no such platform, the scrubbing and massaging being done on the floor in a separate area. [Some Syrian baths date from the Ottoman period, but many are much older.] When you're done, you go back to the main room at the entrance, where your wet towel is replaced by a dry one, and additional dry towels draped on your torso and wrapped around your head. There, you sit and relax, drink tea, smoke nargileh, watch television, read a paper, whatever, until you are ready to leave.
Back to nudity, or the prohibition thereof. The strangest thing to me about the Arab/Turkish bathing experience is that you are always partially covered. In Turkey, at least in my experience, this is done with a relatively small piece of cloth ("pestemal"), which remains at least partially on (covering your genitals) but still gives you sufficient access to clean effectively. In Syria (and presumably other parts of the Arab world), the cloth is closer to a full-fledged, large (though thin) towel, making clean your nether regions a little trickier (though still doable). To someone coming from a nude bathing culture, to be naked while washing seems somewhat obvious. (I have not been to a Scandinavian bath, but I imagine in the enlightened north they even have nude co-ed bathing facilities–but I could be wrong.) Even in the non-bathing West, public nudity is something we grow accustomed to in lockerrooms and does not cause undue anxiety. (One hotel gym we saw had private changing stalls within the men's lockerroom–I assume this is universal in the Arab world as well.) I do not know the history, but presumably the Romans (even if they did not love nudity as much as the Greeks) bathed nude. Perhaps the towel was a Christian Byzantine invention (although I believe that in the Byzantine period bathing as a whole was viewed as something of a pagan excess) or a Muslim one (lovers of modesty).
I think staying covered eliminates suggestions of homosexual curiosity and activity, which might otherwise be associated with an all-male environment. It is as if it is feared that, were the towels to come off, the hammam would turn into one huge orgy, people unable to contain themselves. And such fears are not totally unfounded. In Ottoman times, Turkish hamams were so well-known for offering (on a pay basis) same-sex sexual services that gay men are still called, in Turkish, "bath boys." We heard from one Arab man that his parents told him when he was young not to go to hammams. He didn't realize it at the time, but he knows as an adult that it was because they feared him being exposed to "inappropriate" sexual activity, which is apparently surprisingly common. When we discreetly revealed to a shopkeeper in the Aleppo souk that we were a couple, one of the first things he said was to ask whether we had visited a hammam, as though it were something we particularly would find of interest.
Keep your distance! Painted on a wall outside a hammam in Damascus.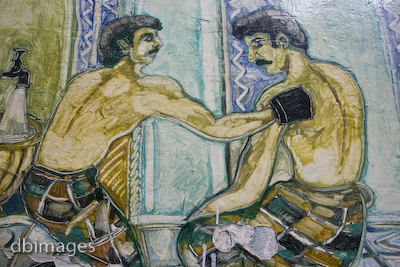 And, perhaps the most revealing and surprising story: Back in 2001, when we were visiting Turkey, we met a ferry captain who was very friendly to us, largely because he had had positive experiences with my compatriots. Now, this middle-aged man was clearly heterosexual–he was married with children and kept sharing with us (in a typically macho Turkish manner) his various sexual exploits while sailing the world. He let us ride in the front of his boat in Istanbul and offered to take us around with his wife around his neighborhood, an offer we did not take him up on. As part of his neighborhood tour, he said he could take us to a hamam, a real good one that wouldn't rip us off (some do, offering tourists really substandard service for inflated rates) but provide full service for (I believe it was) about ten dollars. The shocking part was the hand gesture he made when he said that the service would be complete–the universal motion for male masturbation. He sort of laughed it off afterward, but it was not at all clear that he was joking. Ever since then, we were wondering–do middle-aged, straight Turkish men really go get handjobs in hamams? The more I learn about hammams/hamams, I think the answer may be yes.