There's even a street named after it.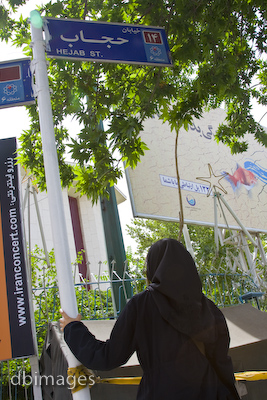 Iranian law enforces the hejab, or the Islamic dress code, on all women age 9 and over (corresponding to the age at which girls could be married in Iran immediately after the Islamic Revolution, although that age has since been changed). Iranian women do not wear the burqa, like women in parts of the Arab world and Afghanistan, but the rule seems to be that absolutely everything be covered except the face and hands. (This rule even applies to, with ridiculous effect, Iranian movies, in which female characters are covered even in domestic scenes in which in real life a woman would not be covered.) The hejab is often satisfied by wearing a chador, a very large piece of black cloth that is draped over one's head and held in place with one's teeth or hands to cover nearly the entire body but the face. Alternatively, and preferred by many women, is a coat (called a manteau and sometimes fitted), along with a headscarf. Young women in big cities flout the rules a bit by wearing shorter manteaus and wearing their headscarf rather "high" on the head, exposing a good portion of their hair. Some non-Muslim women tend to dress even a little more casually, perhaps exposing a little neck or ankle. [See my post of 6.4 for photos.] But the hejab is the law. If you break the law once, we are told that the police will just take you to the police station and call your family. But if you kept breaking the law, you would be fined and eventually end up in prison. The Ahmedinejad administration has ordered police crackdowns on the hejab, especially in the summers when the temperature climbs and it becomes tempting to relax one's clothing. As once reported in the press, "Police will seize women with tight coats and cropped trousers."
Bathroom sign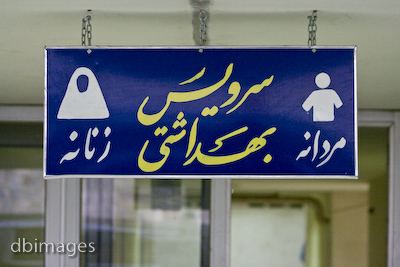 For some of you it may be tempting to view the hejab as something cultural, rules that we as non-Muslims may not be comfortable with but may well be desired by Iranians for the ordering of their society. I personally am certainly comfortable with traditional dress (cf. post of 4.16), and recognize that different cultures do find different clothes more or less acceptable or objectionable. But through our travels in Iran we have come to feel more strongly than ever that dress is an important form of personal expression, and that the legally enforced hejab is an unreasonable infringement of women's liberties. (This may sound a bit American–and indeed I also find objectionable (although not in the same way) rules in France and Turkey that prohibit the wearing of headscarves.)
Often, in conversations with Iranian women, the hejab comes up. When we asked them what they think about having to wear the headscarf, we generally heard a curt "I hate it." Young ladies that Derek tries to photograph will spontaneously point at their headscarves, saying that it's ugly and that they would much prefer to be photographed without it (although of course that is not an option). Even women who said that they themselves would wear it even if it were not legally required, because it is dictated by their faith and tradition, told us that they did not think it should be the law, and that women should be free to choose. I do not know if there have been any reliable polls, but one fairly liberal, but older man thought that perhaps half of Iranian women would wear and half not wear the hejab if the law were lifted. (We were told by one older woman that, in Tehran before the Islamic Revolution, almost nobody wore headscarves, but the legal requirement in the last thirty years has restored the hejab to the level of social mores as well–even we started joking that women with high scarves must be of questionable morals, akin to a very short miniskirt–and if the law were revoked more women would probably wear headscarves than in pre-revolutionary days.) But just as women will object to the hejab, they will also point out that it's just the tip of the iceberg, a meaningless symbol compared to the other social and legal handicaps women suffer in the Islamic Republic. Upon reflection, however, I have come to the belief that the hejab explains much about what is wrong with gender relations in Iran.
The first problem with the hejab is simple inequality. Although I believe that as a technical matter the hejab imposes restrictions on men as well (and at times men have been harassed by police for having "improper" hairstyles or whatever), from our experience the law doesn't stop men from doing much of anything in the way of dress. Men wear short sleeves all the time, have all sorts of hairstyles from long to spiky, feel free to leave three or four buttons undone exposing a usually hairy chest and wear sandals exposing their feet. We've even been told that it's okay to wear shorts, although we have not seen anyone doing this.
Exercising. The man looks a bit more comfortable, don't you think?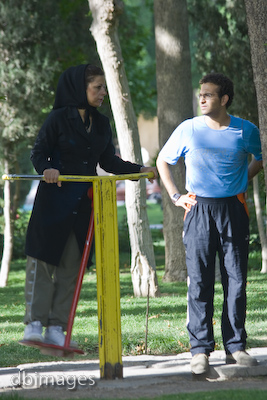 Because the hejab is required for women when they may be in the presence of unrelated men, it creates for women a constant awareness of, a burden to check for, the possible presence of men. If dress is slightly relaxed, because they are alone or in a private place, they must rush to fix it if a man (especially an official) appears on the scene. It creates for women two spheres–the private, in which they are free to wear whatever they'd like, and the public, a space controlled by men in which they must modify their appearance. It is, simply put, a symbol of patriarchy.
No hejab, no service.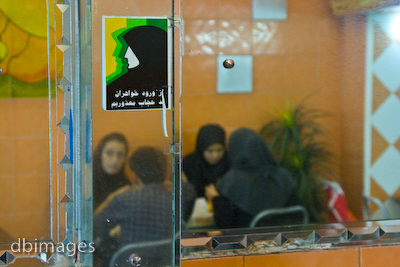 Another, deeper problem with the hejab revealed itself when we asked why it was necessary. What we were told repeatedly by men was that women need to conceal themselves in order to reduce temptation for and sexual violence by men. This is, of course, the exact mentality that allows rapists to defend themselves by pointing to the victim's dress. This attitude is not only damaging to women, because it assigns female culpability to the male problem of sexual violence, but, I believe, also to men, who are seen in this view as totally lacking self-control. Indeed, some anecdotal evidence would suggest that this worldview generates male misbehavior–one young tourist we met in Tehran said that she received 10-20 unwanted and persistent advances by men each day, and another foreign woman temporarily living in Iran confirmed that Iranian men seem to have no sense of shame or fear of rejection. The Lonely Planet describes the Tehran subway as a "frotteur's heaven." Iranian men in the U.S. certainly don't behave this way–it must be the culture of giving men a free pass and blaming women that causes it.
A few words on what tourists should do in Iran. One man we spoke to laughed bitterly when mentioning his conversations with female tourists from Europe who answered, when they were asked what they thought of Iran, simply that they liked Iran and that Iran was great. "What if they had to live here?" he asked, "What if there was an Islamic Republic of France? Let's see what they'd say then." After hearing this, we felt it our responsibility to be truthful, and not gloss over our true feelings on important questions simply because it is easier to avoid political issues.
Also, we have seen some Iranian domestic tourists from the larger cities avoid wearing their hejab when possible. For example, in a hotel lobby, two young ladies were sitting across from Derek without their scarves on, next to their scarf-wearing mother, and only rushed to put them back on, while expressing annoyance and rolling their eyes as they did it, when an Iranian man entered the room. On a daytrip to the countryside, some Iranian women in our group courageously took off their scarves, since they were in the presence of only western tourists and the tour operators. Sadly, on that tour, most of the western tourists kept their scarves on, no doubt not only because they were afraid of getting into trouble (we were told once that foreigners are levied a $3 fine), but because they thought that respecting local law was the "right thing to do." But does this kind of law deserve respect? Or should the foreigners show solidarity with courageous Iranian women?
It may be the law, but does it deserve respect?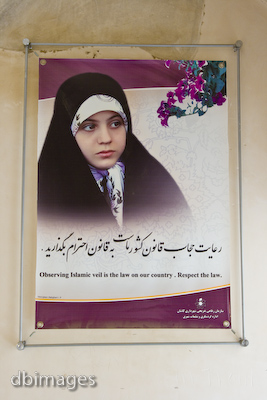 One story: We were showing New York postcards (which we carry for such show and tell) to three older women in a city park. They asked for a card, and we selected the one of Radio City Music Hall. Women are not allowed to sing or dance in public in Iran because the solo female voice and female dance are considered too seductive, causing many female musicians to move to the U.S. after the Iranian Revolution. We wrote on the back of the card, "In this place, they make music that could make you cry and there is beautiful dancing. One day, the people of Iran will dance and the women will sing. Iranian people will walk hand in hand with the rest of the world." Each sentence was met with a quiet but firm "Inshallah [God willing]."