Indonesia is the world's largest archipelago, and even in this jet age travel by water is an essential mode of transportation in Indonesia. Ferries are varied, from fast tourist catamarans operating out of Bali to local ferries crossing the narrow straits between islands; from small boats carrying people a couple miles to great ocean liners operating across the vast country.
Even on our short Indonesia trip we found ourselves on multiple boats, not including the boat trips we took for diving, and I thought a post in order especially to relate our voyage to Sulawesi.
Our first stop in Indonesia was the island of Gili Trawangan, one of the three "Gili Islands" off of Lombok that have become in recent years enormously popular beach/diving destinations. Trawangan is known as the "Party Gili" (we went not for the party but because we thought it would have the best range of food and accommodations), but is in fact still quite relaxing and peaceful–nothing at all like, say, the Kuta/Legian/Seminyak urban agglomeration of Bali. The Gili Islands are served by both fast medium-sized boats from Bali and small local ferries from Lombok. We flew into Lombok and took the latter, which just pull up on the beach, with passengers wading to shore.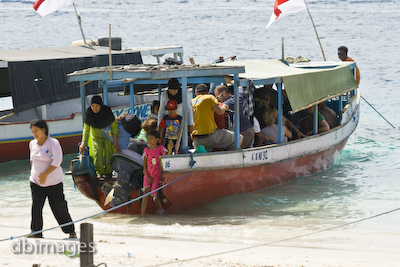 From Lombok we traveled east to the next island in the chain, Sumbawa (something of a rarity–an Indonesian island that is not a real tourist destination). Our bus from Mataram in Lombok to Bima in Sumbawa took the ferry to cross from Lombok to Sumbawa, as often happens with long-distance buses in Indonesia. During the ferry portion of the trip, the bus passengers get off the bus to relax in the passenger sections of the boat, a nice way to break up a long ride. The boat ride itself is only about a couple hours, comparable to the distance from Sumatra to Java or Java to Bali (and shorter than the distance from Bali to Lombok or Sumbawa to Flores).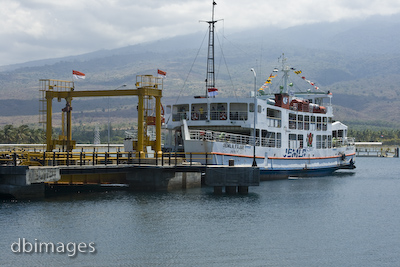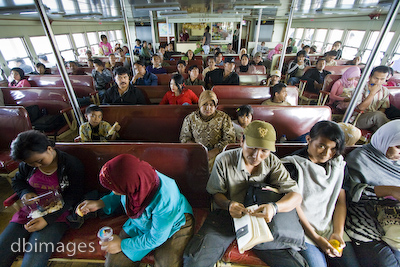 From Sumbawa to Flores, the next island east, is a somewhat longer trip, taking the better part of a day. The boat passed through the islands of Komodo National Park, the home of the Komodo dragon. I was nervous due to reports that the passage can be rough (and because some surfers on their way to Sumbawa had told us that a "perfect" swell was approaching from Australia), but the sea was perfectly calm. Both the Lombok-Sumbawa and Sumbawa-Flores ferries, while in reasonable condition, seemed to be secondhand ferries from other countries–the Lombok-Sumbawa ferry even had safety instructions in Japanese and a full (though not functioning) Japanese vending machine, complete with cans of Japanese beer.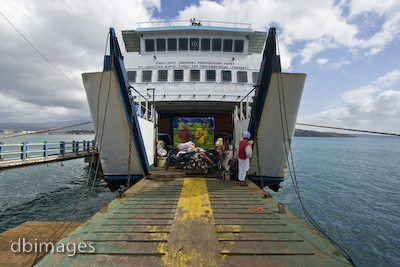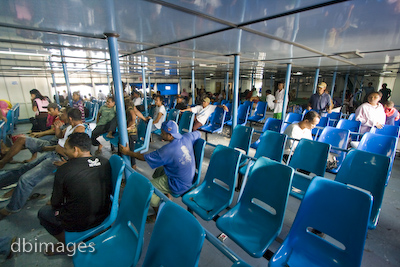 The great journey of our Indonesia trip, however, and really one of the most memorable single rides that we've ever been on, was the PELNI trip from Flores to Sulawesi. PELNI is the state-owned shipping line that operates very large passenger ships among the islands of Indonesia. Numerous ships run on various two-week itineraries, connecting all of the major (and many minor) islands with services ranging from posh first class to cattle-class economy. I had fantasized about taking a PELNI journey ever since I first saw a map of PELNI routes, the curvy lines connecting Indonesia's many remote ports, and we traveled to Sulawesi instead of staying on Flores in no small part because a PELNI ship happened to be departing.
What helped make the trip so memorable was the advice we were given by people on Flores when we bought the ticket: buy economy class and upgrade on board by renting a crew cabin. Now, usually, this is not bad advice–we did confirm on board that crew cabins are generally available for rent, at a substantial discount from the first and second class cabins. But we were not in the usual situation.
As I mentioned above, millions of Indonesians still rely on boats for transportation–either they cannot afford to fly or boats offer the most direct transport for a given route. In our case, the ship had been docked for a couple weeks and the voyage we were on was the first Flores-Sulawesi run in a month.
Our first indication of trouble came while waiting for the boat to arrive. We had been told that the arrival of the large PELNI ship would be the biggest event in town but the number of people piling up at the dock was well beyond our expectations. When the boat arrived and the gates finally opened it was an hours-long slow sweaty march to get on board.
To say that no cabins were available is something of an understatement–every space onboard was packed with people. There were piles of luggage (boxes and sacks as well as proper suitcases) everywhere. People claimed not only seats and every available space on the many decks but also space on stairs, banisters and railings. It was difficult even to move about the ship, let alone find a place to set down one's bags and body.
Finding space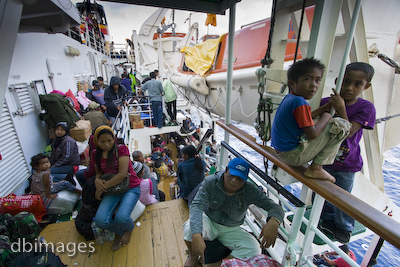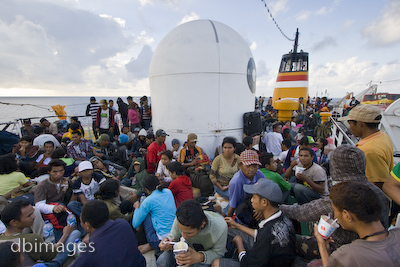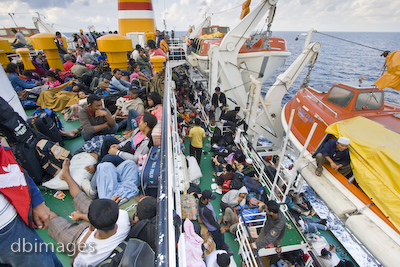 Getting comfortable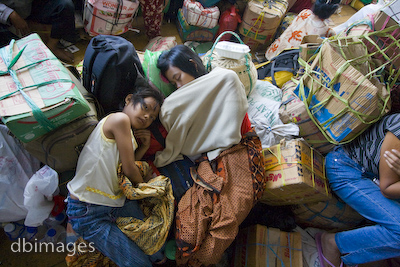 Lower down were the economy class bunks, not only crowded but also hot and sweaty with the air conditioning failing especially on the fourth deck, which was unbearably hot. The bathrooms were complete with showers, but the squat toilets were overflowing pools of dirty water. To put it crudely, I was reminded of diagrams of 17th century slave ships from history textbooks. We were told later that a woman had delivered a baby on board.
In the economy class sleeping area

It was hard to stomach the thought of the next twenty hours to Sulawesi. I imagined what the rush to the lifeboats would be like if something were to happen to the ship, unsurprised to see that people were already occupying the lifeboats as seating space. (Later, I figured that there were easily over 1,000 people on board and only about room for 750 on the lifeboats.) I wondered whether there was sufficient food, or sanitation facilities, for the crowds. In a couple moments of panic I thought we should disembark before we left port.
So where did we end up? Derek's resourcefulness and pushiness again won the day. Through a door marked "crew only" on the sixth deck Derek noticed that some passengers had settled down in the air-conditioned hallway. They were mostly women and children, but a few feet away was another length of hallway, unclaimed. After convincing the crew member controlling access to let us in, Derek set our bags down and we made ourselves comfortable.
Our space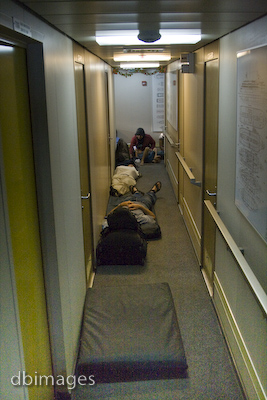 Down the hallway, to the left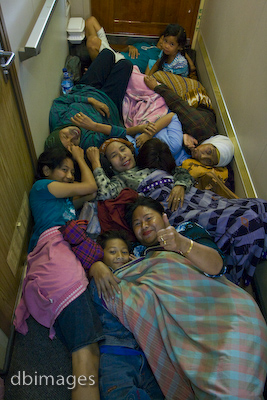 Now, this hallway was the one leading directly to the bridge, and I thought that there was no chance that the crew would let us stay. Fortunately, they felt sorry for us ("Why aren't you in first class?") and let us stay, in almost the only open space on the boat. A woman who had gotten on earlier and was able to rent a crew cabin lent us a couple of mattresses, making our little home even more comfortable. The next morning, one of the crew invited us onto the bridge for tea and a chat. Sometimes we are so grateful of the hospitality and lenience shown to us as foreign travelers–it would have been so easy and fair to just say that we should tough it out with the other economy passengers, who had after all paid exactly the same fare that we had. Could we hope that such a reception would be offered in a similar situation in the U.S. to overseas visitors? "You're in America, learn to speak American" comes to mind.
The bridge. Calm seas, the PELNI boat on a bearing of 352 degrees.