In the Guadalquivir River in Cordoba, an Arab-style waterwheel, or noria, like those found in Hama, Syria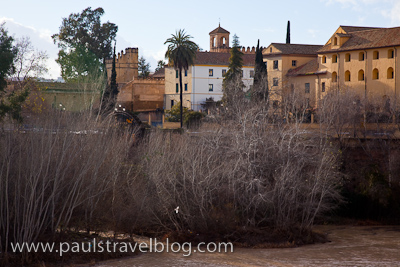 Washington Irving in his famous Tales of the Alhambra mentions that the Moroccans of his day (the late 1820s) spoke of eventually retaking southern Iberia and restoring Moorish/Arab/Muslim rule to Andalusia. In the current world order such a Moroccan encroachment into Spain and the European Union is not realistic, but the spirit of Moorish Andalusia is very much with us today, not only in terms of the Moorish influence on Spanish culture generally (see post of 2009.02.01), but a definite awareness of the uniqueness of Andalusia as a historical blend of Christian and Muslim. Not only do Arabs and non-Arab Muslims feel a connection to Andalusia that they do not feel to the rest of Christian Spain, but also Spaniards (perhaps through Andalusia) seem to have adopted sympathies to Arabs that are a far cry from their ancestral rulers who led the Inquisition.
Andalusia's ties to Morocco and the Middle East are often used to orientalizing effect for tourists. In the first image, Moroccan leather goods for sale in Seville. In the second image, advertisements for Arab-themed entertainment in Granada. In their defense, many of these establishments are run by Arab immigrants, not only from Morocco across the Strait but from the Middle East as well.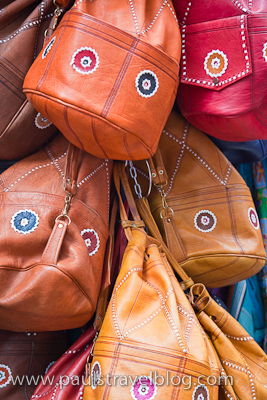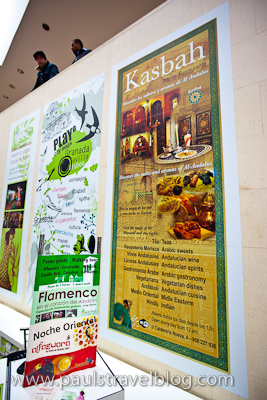 This hammam has been restored as a ruin/museum, but others have been restored for actual bathing by tourists. We visited one in Granada and were disappointed–a fairly sad facsimile of a hammam if scoring for authenticity (and coed–the sacrilege).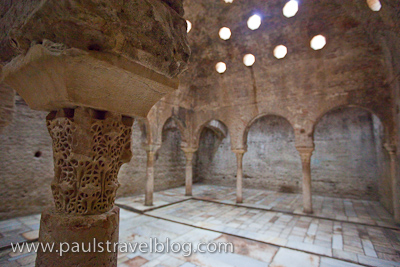 Muslim tourists–even non-Arab ones–are drawn to Andalusia for its Arab Muslim history. In the first picture, British tourists of South Asian Muslim descent at the Medina Azahara outside Cordoba. In the second picture, Malay students at the new Granada Mosque taking a break from sightseeing.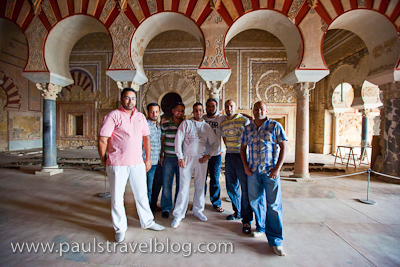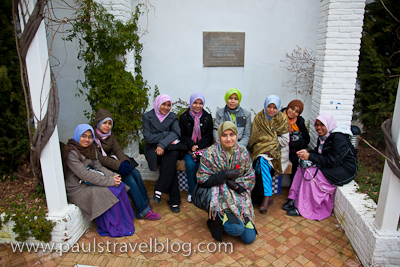 The memory of an Arab Iberia very much lives on in the Arab world.
Moors evicted from Iberia after the Reconquista settled in an entire district of Fez known as the Andalusian quarter (first image). The second image is of the Sahrij Medersa in the Andalusian quarter, perhaps the most beautiful in Morocco.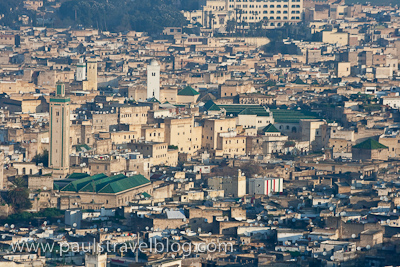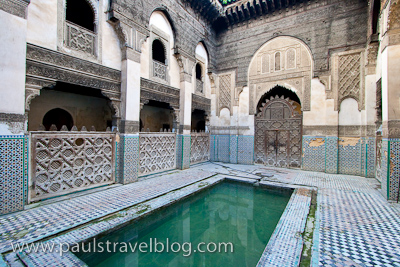 Al Andalous is the inspiration for this barbershop in Nouadhibou, Mauritania, as well as the brand of underwear being sold in Fez.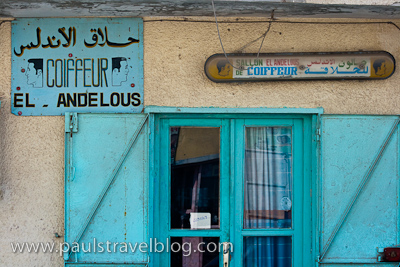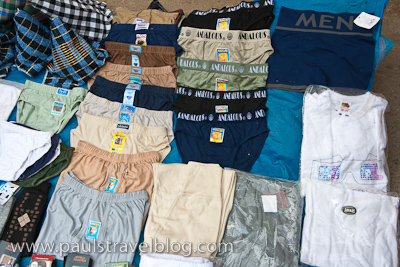 Half a world away in Doha, Qatar, this curtains and furniture store commemorates Arab rule over Iberia.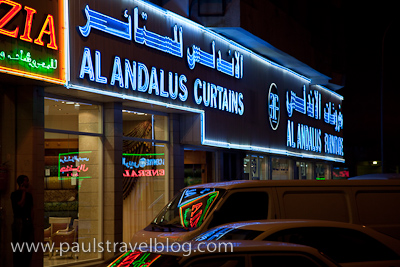 One of the most puzzling little aspects of the global taking of sides in the Middle East conflict is the very common phenomenon of pro-Palestinian Spaniards. Pro-Palestinian graffiti is more visible in Spain than anywhere else I have been, keffiyeh are popular accessories among Spaniards and in parts of Palestine the only other tourists other than us were Spanish. I think the real reason for this is the popularity of leftist politics in Spain (perhaps a backlash against Franco) that tend to favor the underdog cause that is Arab Palestine, but perhaps two more interesting factors are also causes: 1) that modern Spaniards feel guilt for their ancestors' anti-Arab crimes during and after the Reconquista or 2) that modern Spaniards recognize that, genetically, they are part Berber and Arab, descendants of the Muslim Moors who chose to stay in Iberia and convert, and therefore have sympathies for their Palestinian kinsmen. (I do recognize that these theories are somewhat ridiculous, and would really appreciate if someone could enlighten me on the phenomenon.)
Pro-Palestinian / Anti-Israeli graffiti, in Seville and Granada