Favorite pasttime — reading the Quran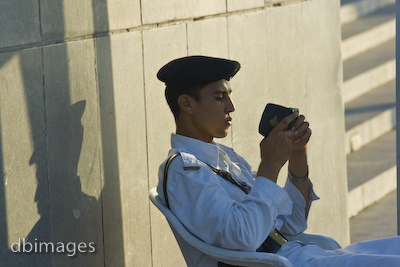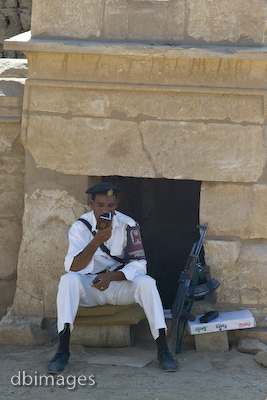 Many countries with a critical mass of tourism, especially in the developing world where the average person may not speak any English, often have separate "tourist police" forces. In every country we had been in, prior to Egypt, the essential functions of tourist police have been to act as English-speaking policemen for whatever visitors may need, to police tourist areas for additional security and peace of mind, to prevent tourists from interacting with "regular" police, who may not speak English or might be incompetent or corrupt, etc. Yes, it's possible for tourist police to become involved if a tourist commits a crime, but really they're there to aid tourists. To encourage tourism and tourism receipts.
Not in Egypt. Egypt has a very large "tourism and antiquities" police force, seemingly omnipresent, but they are not the helpful tourist police that travelers may have gotten used to in other countries. Nowhere have we met police, *tourist* police no less, whose job it seems to be not to aid tourists, but to harass them and otherwise get in their way, like the tourist police of Egypt. Even if the primary mission of the Egyptian tourist police is to deter terrorist acts against tourists, which have occurred with some frequency in Egypt [post to come], or there is a special concern in Egypt that tourists themselves may commit crimes (a relic of the days when tourists doubled as antiquities thieves), even then, the Egyptian tourist police should not be so useless to tourists, so negatively harassing.
1. Egyptian tourist police don't speak English. Given that part of these people's job description is to interact with tourists, wouldn't it be useful if they were able to speak to tourists? Even superior officers frequently speak none or only a few words.
2. Egyptian tourist police beg for baksheesh. Now, petty bribery is common in many parts of the developing world, but nowhere have we seen police officers beg for tips. This is common behavior by tourist police at all Egyptian tourist sites. They ask for it in exchange for allowing you to enter restricted areas, for taking photos, for acting as informal guides or for doing nothing at all. Even a policeman guarding a police station asked us for a tip, with four other guards in earshot. Is this really the impression that the Egyptian government wants to give to tourists? That their police officers are beggars?
Acting as an informal guide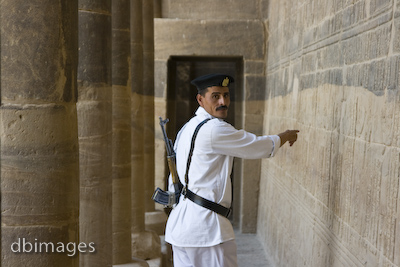 3. Egyptian tourist police may steal. I'm almost certain that I had my cell phone stolen during a security check at Philae Temple near Aswan. Most of the time, tourists are simply waved through security checks (perhaps too crude a profiling method), and so I didn't pay too close attention to the guy going through my bag. Next time I looked–phone gone.
4. Egyptian tourist police are rude. Not only have tourist sites closed early because of Ramadan, but the guards close off sections of sites and try to have you out well in advance of even the early closing time. Given that admissions in Egypt are not cheap (often in excess of USD 10 per person), it is very upsetting, after you've paid for your ticket, to learn that much of the site is already closed or to be chased out early. After such an experience at the Egyptian Museum, I refused to leave until the proper Ramadan closing time, at which refusal all sorts of expletives and insults against my country were hurled at me and I was physically handled. Police may have threatened to detain or arrest us in other countries, but never have they stooped to this sort of base hostility, in this case for simply wanting to stay until the designated closing time.
One bizarre incident. We were visiting a small mosque in the "northern cemetery" region of Islamic Cairo. The mosque is famous–on one of the Egyptian bills–and a standard tourist attraction. When we showed up, a keeper of some sort started showing us around, as is usual, in expectation of a tip, or baksheesh. This was fine, especially since the mosque itself didn't charge any admission. In the middle of our tour, the "guide" was called aside by a tourist policeman who had just entered, and returned to say that we had to leave because of the police. Now, there is no rule in Egypt that tourists cannot visit mosques (they actually make up a fair percentage of the sightseeing in Cairo), and this mosque was one that is quite prominently listed in guidebooks. We were mid-day, at no special time. Annoyed, we finished taking some pictures and exited, giving a few pounds to the custodian/guide at his request. The man then handed the money to the tourist police! You may think that forfeiting the baksheesh could have been some kind of punishment for showing us around, but not if you've been to Egypt. The most likely scenario was that the whole "chasing us out" was some sort of setup to encourage more tipping–to make us feel like we saw something that we weren't "supposed" to see. Derek grabbed our money back.