To start the day, the Turkish breakfast. Breakfast is usually included with the room rate in Turkish hotels–this one is a particularly fine spread. Almost always provided are boiled eggs, some sort of processed meat product (the one pictured is quite common), cheese (not usually four different kinds, as pictured), olives, cucumbers and tomatoes, and butter, jam and honey. All is eaten with bread (not pictured).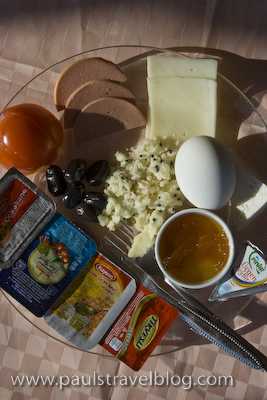 Another way to start the day, a pretzel-like bread called simit, often sold on the street.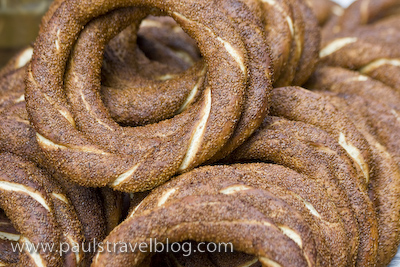 A third way to start the day, and perhaps the tastiest: the borek. Most often filled with egg, spinach or cheese, the layers of cooked dough end up having a consistency more similar to egg noodles than to flaky pastry, which somehow makes it all the more delicious. Here, behind a glass of tea in a traditional Turkish tea glass.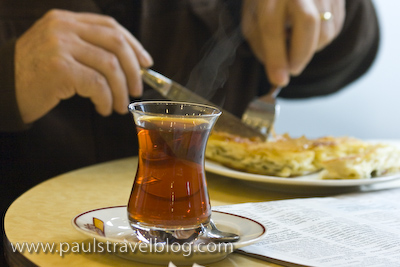 For lunch (or dinner), what you eat will often depend on the kind of restaurant you go to. Three common choices: a pide salonu, a kebap salonu or a lokanta.
At the first, you will be served pide, which is described fairly as Turkish pizza. Pide is shaped like a flat football, made to order and generally quite cheap and tasty.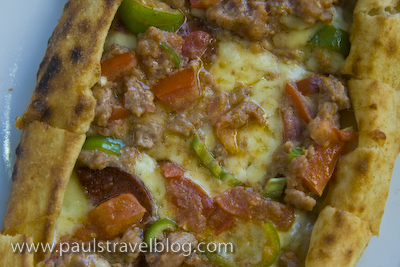 More common than the pide salonu is the kebap salonu. Kebap in Turkey comes in numerous forms, suggesting to me that the country is in fact the origin of that category of food. Far from kebap fatigue, which some travelers develop, I found myself gaining a greater and greater affinity to the food, including especially…
The doner kebap. Possibly the single greatest export of Turkish cuisine, the doner kebap, eaten as a sandwich or on a plate, is also one of the most common foods in Turkey. I want to note that Turks still cut their doner using real knives, as Syrians and Jordanians do with their shawarma, which I believe is the only way that the chef can properly select the most optimally cooked segments. Shame on you, Palestinians, for using an electric shaving carver! What laziness!!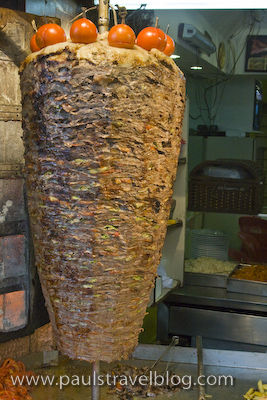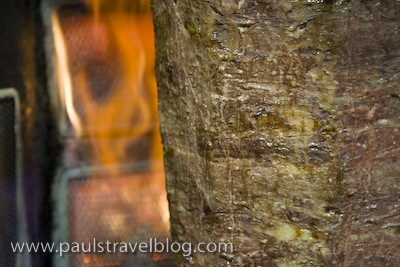 It also comes in chicken, the tavuk doner.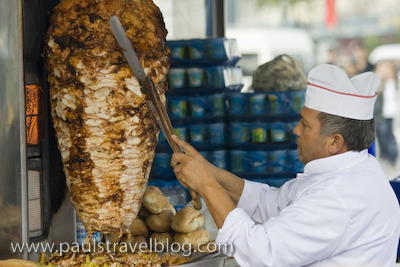 One important variant of doner on a plate is the Iskender kebap, otherwise known as Paul's favorite Turkish dish. Iskender is doner with tomato sauce and yoghurt, served over a plate of chunks of bread. The bread soaks up the greasy, creamy, tomato-y sauce–yummy!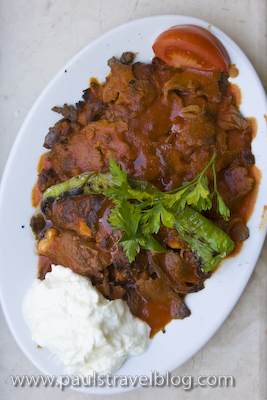 Other kebaps are cooked on individual skewers. Kebaps made of chunks of meat, as opposed to the more common kebaps made of ground meat, are generally called shish.
Chicken shish sandwich. As with (other) middle eastern cuisines, ordering kebap in sandwich form costs a fraction of what appears to be the same components–the meat, salad and bread–laid out separately on a plate. This sandwich/platter price disparity mystery lives on in middle eastern restaurants in the United States, although to a lesser extent.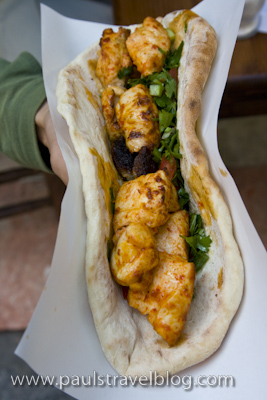 The Adana kebap is perhaps the kebap most similar to the Iranian kubideh, although the seasoning is in fact different, as an Iranian-American friend of mine commented on an earlier post (see post of 5.25).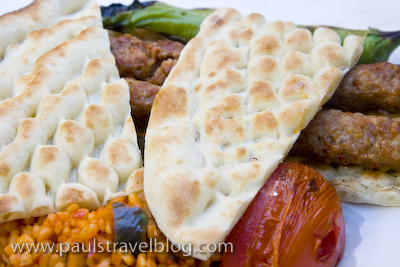 Kofte is a general name for kebap made with ground meat. Izgara kofte, shaped like half smoked cigars (or meat turds, as we called them), is one of its most common forms.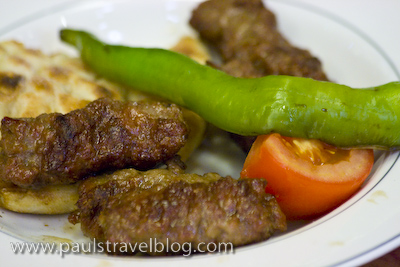 You can also add some vegetables to the mix, as we in non-Turkey are fond of doing with our shish kebabs. Here, mantarli kebap with mushrooms, served at a rather good Ankara restaurant.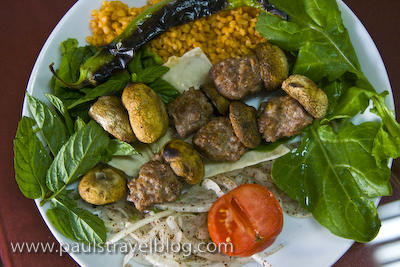 Kokorec is frequently spotted rotating on sidewalk grills. It smells inviting–surprisingly like grilled pork–but is made of sheep guts. As I'm just not that into innards, as food goes, I haven't tried it.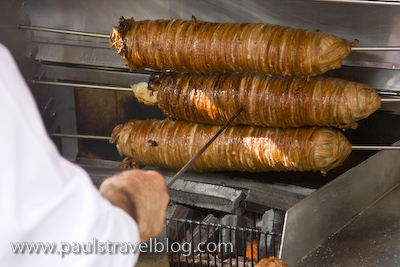 The third category of restaurant, in my lunch list, is the lokanta, which is what I like to call a "bin food restaurant." I hold bin food restaurants, any doubts about food safety notwithstanding, to be among the traveler's greatest friends, for they offer those unfamiliar with a cuisine the opportunity to try a wide variety of dishes, with no ordering difficulties. In Turkey and in other countries as well, bin food restaurants also offer great variety, including home-style cooking that is usually unavailable in other types of restaurants (particularly upmarket ones that specialize in grilled meat). Caribbean and Mexican bin food restaurants are among our favorite restaurants back in New York. There is one caveat, however, about Turkish lokantas–while bin food restaurants in other countries are often quite cheap, your bill at a Turkish lokanta, especially if you want to try many dishes (portions can be small), will likely end up being quite a bit higher than if you had just eaten kebap.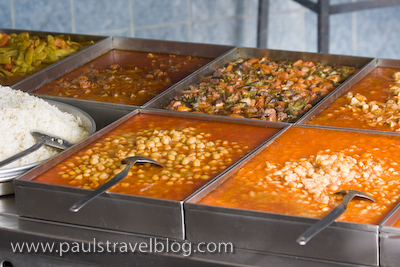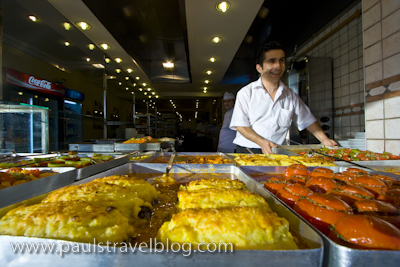 An Istanbul special: the fish sandwich, prepared on the shores of the Golden Horn.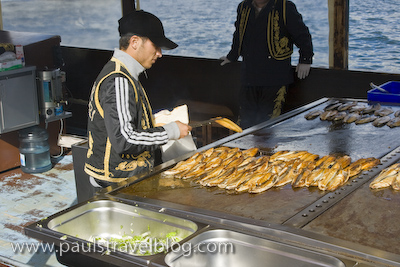 The most Turkish beverage is of course chay, served in tulip-shaped glasses. Tea is drunk sweet with plenty of sugar.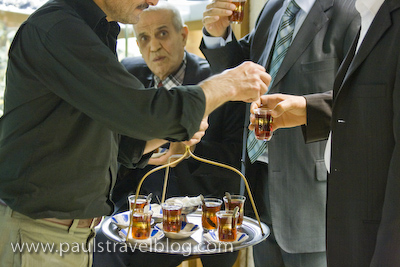 The second most Turkish drink, ayran. Whatever Derek may say about ayran being more a sauce than a beverage, it is one of my favorites, and it indisputably goes great with kebap. A particularly frothy, freshly-made version–more common is factory-produced ayran in plastic containers.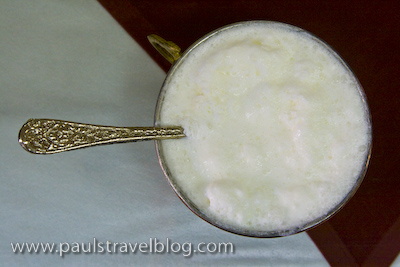 Some Turkish desserts:
My favorite Turkish dessert, indeed one of my favorite desserts of any cuisine, firin sutlac. Firin sutlac is like rice pudding (more pudding than rice) baked in an oven and then cooled, so that it develops a delicious tough caramel-y skin on top. The Turks and the Indians tie for first place, in my opinion, in rice puddings. This sutlac is from Ozsut, a coffee and desserts chain in Turkey.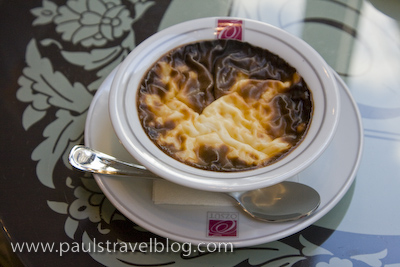 The most famous Turkish desert, baklava. Who knows whether baklava is originally Turkish, or Greek, or Syrian/Lebanese? Best when dripping with syrup.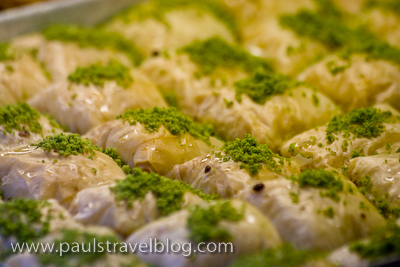 Turkish delight, or lokum, at Ali Muhiddin Haci Bekir, the Istanbul shop that invented it.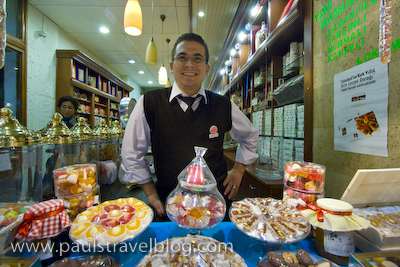 Ashure, or Noah's pudding, of oh-so-many ingredients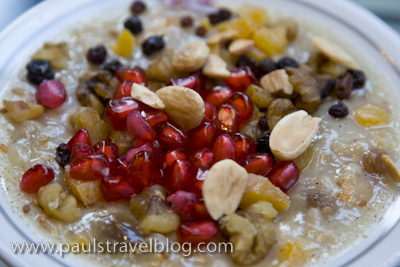 Sahlep was one of the great discoveries of our first Turkey trip, and it remains one of our favorites. Although a bit expensive at Mado (first picture below), this cinnamon-ny, super-thick milky "drink" is wonderful in winter (playing the same role as hot chocolate or egg nog). In the second picture below, an itinerant sahlep vendor at the old book bazaar near the Grand Bazaar.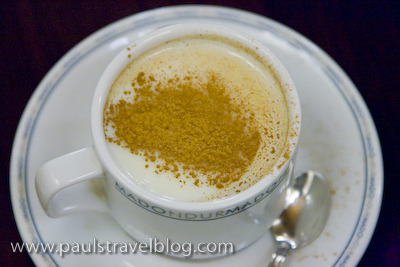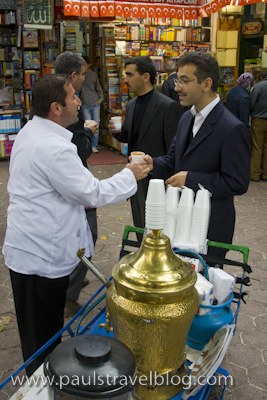 I must admit that I've left an entire category of Turkish meal, the meze meal, out of this post, mainly because meze are usually eaten at night, in challenging photography conditions. The meze culture of Turkey is similar to that of Greece or Syria/Lebanon (see post of 4.27), although the dishes themselves vary some. In our 2001 trip to Turkey, we had great difficulty understanding how a meze meal worked–how much cold meze (usually brought out to you on a platter) to select and eat, if and when to order how much hot meze, and if and when to order grill items after the meze. Almost all that we knew for sure was that meze was usually accompanied by raki, the national anise-flavored liqueur, which should be cut with water to produce its cloudy form. I have since 2001 had the Turkish meze meal explained to me: Eat as much cold meze (salads, pickles, etc.) as you'd like, usually with raki. The cold meze phase of the meal, with conversation and drinking, can take a great deal of time, and it's not essential to have hot meze at all, or even to get to main courses. And whatever you do, there's no real reason to sweat it, as the meal is not so ritualized that you can somehow commit a faux pas.