Doorway of the Friday Mosque, Fatehpur Sikri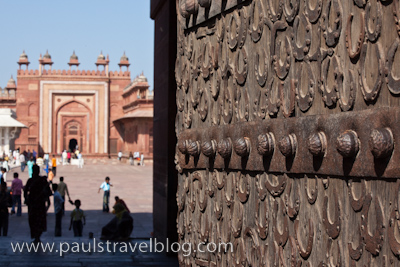 In my previous post, I briefly described the reign of Mughal emperor Akbar, who is widely considered to be the greatest of the Mughals and is celebrated today even in popular culture (as in the 2008 movie Jodhaa Akbar). Akbar's claims to fame are many–he first incorporated Hindu Rajputana (now Rajasthan) into the Mughal Empire, established a system of taxation that was widely seen as being more fair to the peasantry and instituted a religious tolerance that lasted until the reign of Aurangzeb.
For the tourist, however, and architecturally, Akbar's greatest contribution is the city of Fatehpur Sikri, some 40 kilometers outside of Agra.
Sikri was the abode of a sufi saint named Salim Chisti, to whom Akbar had prayed for an heir. When a wife bore son Jahangir in 1569, Akbar built a tomb in honor of the saint and decided that he would built a grand new capital for the Mughal Empire in Sikri, to be called Fatehpur Sikri, to rival then capital Agra. In doing this he was following many precedents, particularly in the Muslim world, of new utopian cities built by leaders. (Other Muslim examples that come to mind are Hyderabad in India (started 1589), Babylon in now Iraq and the Medina Azahara near Cordoba, Spain (see below), but I'm sure there are many more.)
The city failed and was abandoned as a capital within fifteen years–perhaps due to the lack of a good water supply–but the remaining buildings are as spectacular and evocative as any in India, and help visitors envision Akbar's ambitions and idealism.
Fatehpur Sikri's Friday Mosque is perhaps the grandest in all India, including Delhi's Friday Mosque. The longer you spend inside, the more you come to appreciate and see around you the Muslim Indian life that continues in Fatehpur Sikri, a continuation of the Mughal tradition despite the recent turbulent centuries and the failure of Akbar's vision for the city and for India.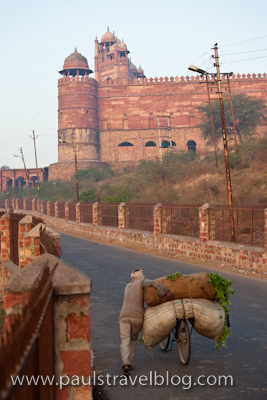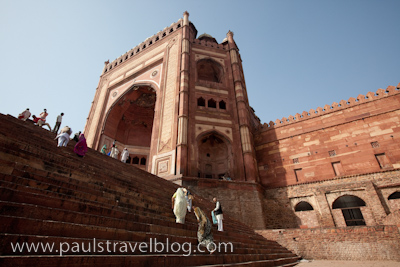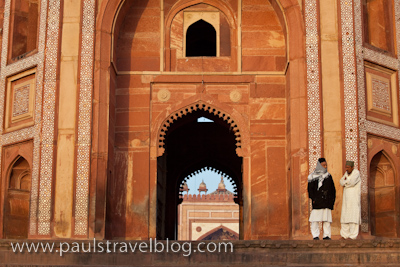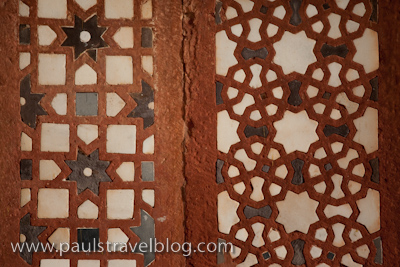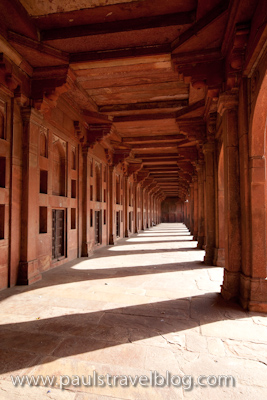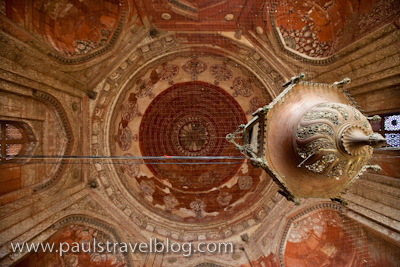 The rituals of worship, from ablution to study to prayer are laid before you in as grand a setting as any, but one more intimate and welcoming than Delhi's Friday Mosque.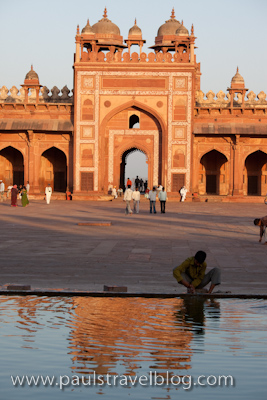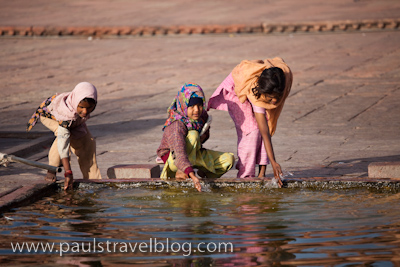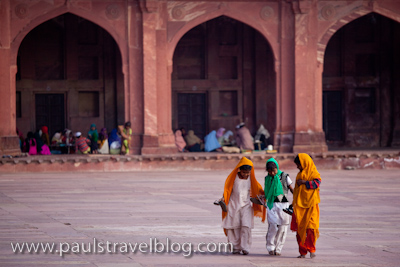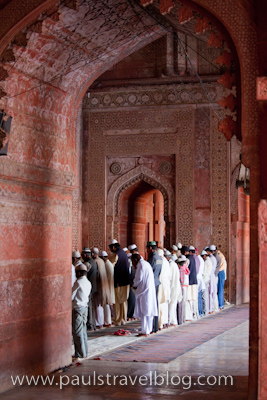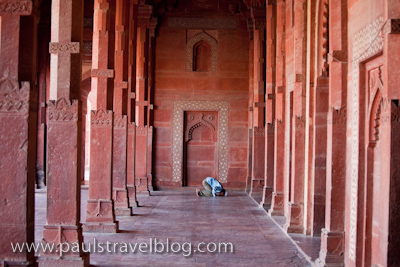 At the heart of the mosque is the beautiful marble tomb of sufi saint Salim Chisti. Both Hindu and Muslim worshippers seem to frequent this chapel, to pray for a child just as Akbar himself had, and Sufi qawwali music is often played in the direction of the saint.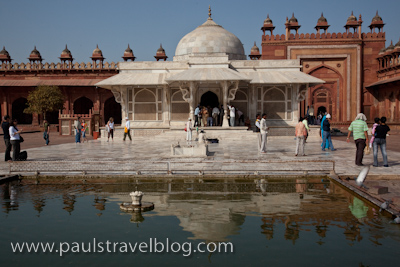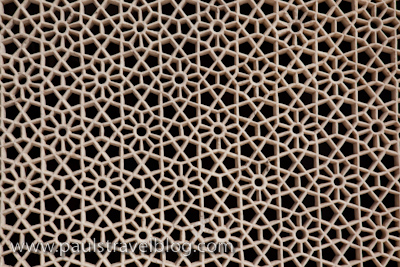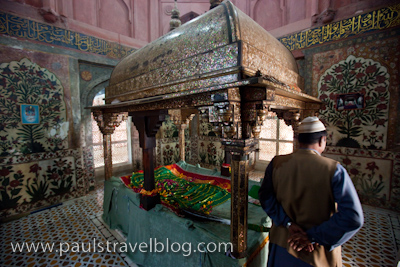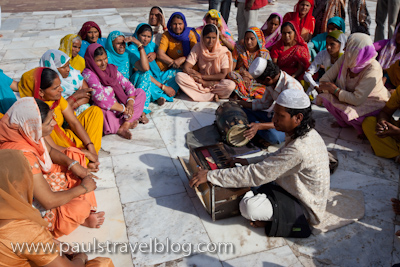 Behind the mosque are some of the ruins of Fatehpur Sikri, including a large caravansaray and a tower said to be dedicated to Akbar's favorite elephant.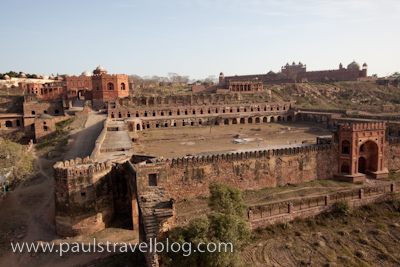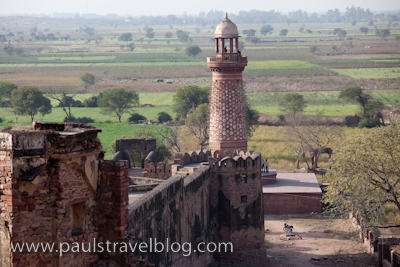 In front of the mosque, the ruins of a grand hamam, now a pigsty (literally). From what remains, it seems that the hamam in its day would have matched, in grandeur, any other in the Muslim world.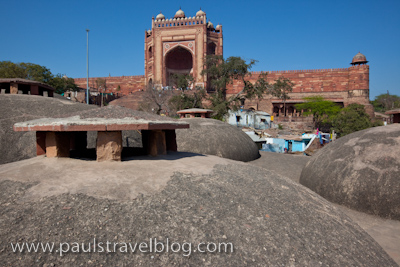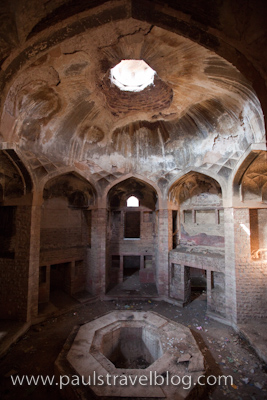 And perhaps most evocative of all, nearby are the ruins of Akbar's palace.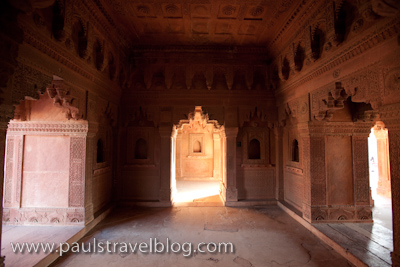 A mural said to depict one of Akbar's wives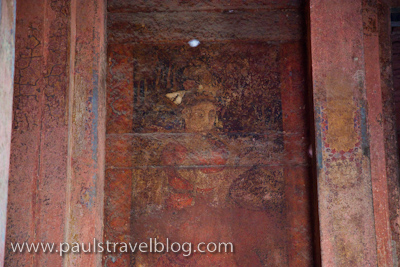 The Diwan-i-Khas is said by some to have been designed to allow Akbar to participate in debates with Muslim, Hindu and Christian theologians, with Akbar in the middle.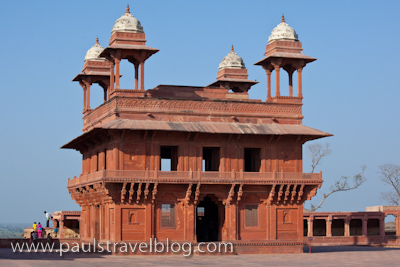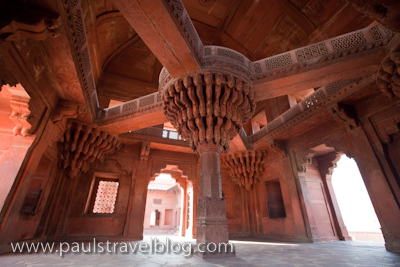 Walking through the palace in the quiet late afternoon, it is easy to imagine yourself as Akbar, with enough power and ambition to build an entire city, a new religion, an ideal framework for an empire to last the centuries. And, knowing how the city failed so quickly and how later Moghul rulers abandoned Akbar's ideals and eventually lost control over India, it comes to mind that often the loftiest ambitions are the greatest of follies. India, far from being united, would collapse into three states, with religion to blame.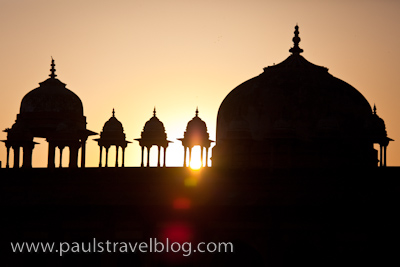 But even if the Fatehpur Sikri failed as a great capital, it lives on as a peaceful, largely Muslim village sitting underneath the great Akbar ruins.
In alleys and side streets, small glimpses of Mughal grandeur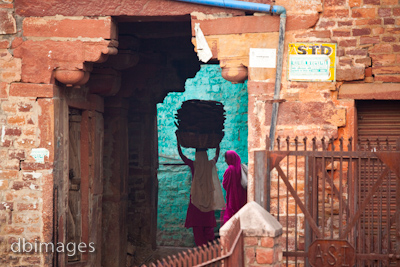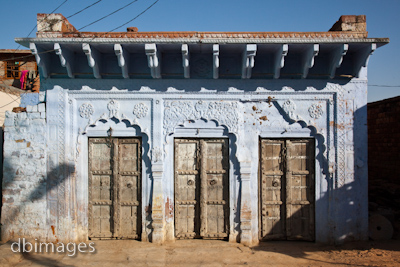 Entrance into town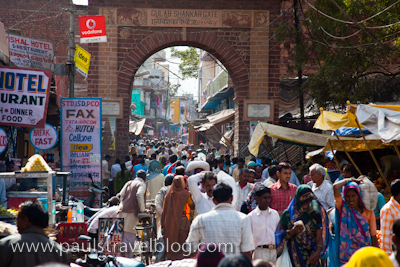 Travel tip: When visiting Agra/Fatehpur Sikri, sleep in Fatehpur Sikri at the Hotel Goverdhan, and do your Agra sightseeing by car. As great as Agra's sights are, the city is crummy and doesn't come anywhere near matching the relaxation and peek into small town life that Fatehpur Sikri offers. The Goverdhan has good rates and pretty good food, is an ideal base and can help with car hire. Take your time enjoying Fatehpur Sikri and make a special effort to be in the mosque around sunrise and sunst, when the mosque at its most quiet and beautiful (even the boy salesmen will let you be after a while) and you can learn to appreciate the continuity and serenity of life in the town.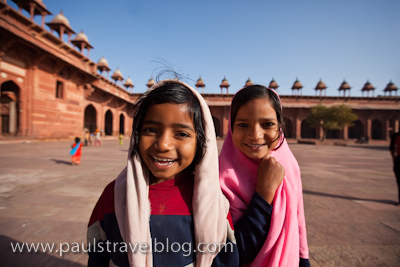 Some pictures from Medina Azahara near Cordoba, Spain, also a failed Muslim new capital. Built in the late 10th century by an Umayyad Caliph and destroyed less than a century thereafter, it was said that the city was one of the grandest and most dazzling ever built. It has only recently been excavated.