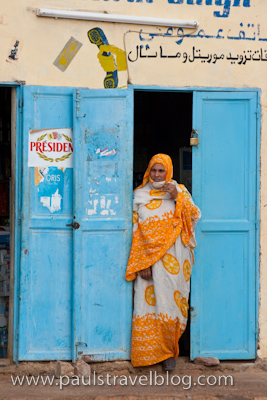 Back in our first "Arab" country of the trip, in Syria in April, I asked our Palestinian friend whether he really felt a kinship with all "Arabs," including those as far out as Mauritania. The answer was a definite "yes"–everyone from Mauritania to Iraq was in fact Arab, part of the same ethnic group. I found this somewhat dubious at the time, and considering the great ethnic diversity of the so-called Arab world (see posts of 4.16, 4.25, 10.05 and 10.13), I had grown to think such feelings of kinship to be misplaced.
But perhaps prematurely. We crossed the border from Mali into Mauritania a couple days ago, and I am astonished by the extent to which, being here, we really feel that we're back in the Middle East, more specifically, the Gulf. The feeling was immediate, and something more than the sum of discrete parts, but let me try to identify a few things that make Mauritania, at least at a superficial level, very much a part of the Arab world.
architecture – All developing countries have similar architecture to a certain extent–styles driven by cost and efficiency over aesthetics–but the boxy cement blocks of Mauritania reminded us instantly of less development parts of Oman and the United Arab Emirates (yes, despite all the oil money, when outside the fancy parts of those countries there are definitely "developing world" buildings). Not only the type of buildings, but their placement and density–sparseness of population encouraging tremendous sprawl–are similar to other desert Arab countries we have been to.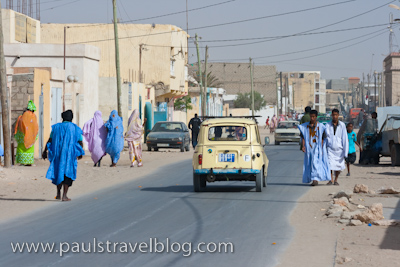 Great Mosque, Nouakchott. Built in a sort of Moorish style, but nevertheless similar to mosques in the Gulf–no doubt in part because it was paid for by the Saudis.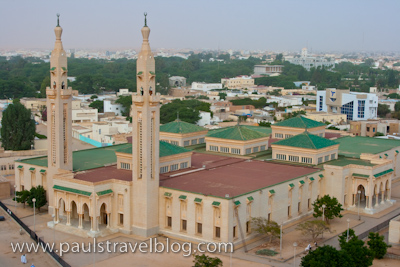 landscape – Now, it may sound a bit silly to say that Mauritania feels like an Arab country because it's sandy, but it's true. There is that certain bleakness and openness that is such common terrain in the Arab world–of course, this commonality of terrain is part of what allowed the Arab conquerors in the seventh century onward to expand so quickly into the countries that we now consider Arab.
population density – Like much of the Gulf, even "urban" Mauritania has a certain emptiness, resulting from low population density and sprawl, not at all like the crowded metropolises of Africa to the south.
food – The richness and variety of Senegalese food (the cuisine found in Mali, at least when you're lucky) has largely been substituted by roasted meat (chicken or lamb) and rice or french fries, basically the common diet all over the Arab world (and large parts of the non-Arab Muslim world). Lebanese restaurants, which seemed somewhat exotic, fancy "foreign food" in Senegal and Mali, suddenly seem more like local food and are far more common. The quality of the meat, by the way, has miraculously improved–livestock here must be raised better, more scientifically. (And, holding true to what I've said about African pricing (see post of 12.18), food prices have dropped precipitously–much cheaper prices for much better food.)
the hours people keep – Arabs, especially in the Gulf states, like to stay up late. The excuse given for this is usually the hot climate, and I suppose it's true, but the end result is that people engage in a very wide range of activities in the several dark hours following dinner, activities that elsewhere in the world would be handled during the day. Shopping centers are often open until midnight or later, and the level of car and foot traffic during those hours is also intense in Gulf city centers. Perhaps it's because of the climate here, too–Mauritanians keep similar hours, and downtown Nouakchott buzzes late into the night.
hospitality – Not all Arabs rate highly in this regard, but it can certainly be generalized that Arab countries (or Muslim countries for that matter) have a more living tradition of hospitality than the developed countries of the west or east. Even if it sometimes feels perfunctory, there is an effort or reflex to be generous to the outsider (or at least certain outsiders). Not that Senegalese and Malians were not welcoming–they were–but the sort of formality and ritual that comes with hospitality in the Middle East is very much back, now that we are in Mauritania. (Some would argue that this relates back to the terrain as well: Arab hospitality is often attributed to the harsh desert climate, and the need to share shelter and protection from the elements.)
race – A banal comment, but, yes, the racial composition here is different from that of the countries to the south. It's not a matter of night and day–Mauritania is something like 30% Moor, 40% mixed Moor/black and 30% black, while Mali is 10% Moor/Tuareg and 90% black–but it is a significant shift. Even in Mali's Timbuktu you feel that most people are black, with some settled Tuaregs as well as Tuaregs coming and going from the desert; in Mauritania the average person is a tan Moor.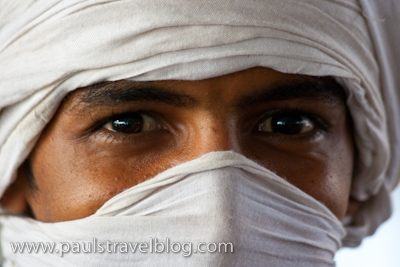 language – A dialect of Arabic known as Hassaniya is the official language.
—-
Now, I say that Mauritania feels to the outsider like an Arab or Middle Eastern country, and not an African (or sub-Saharan African) one, but the real demographic answer is that Mauritania fits somewhere in the middle. As I mention above, about a third of Mauritania's population is sub-Saharan/black African, while another third is "mixed," which likely means descendants of the black slaves of the Moors (some of whom, one reads, still live in a slave-like state, although it was officially abolished in 1980), making it a majority black country, as far as race is concerned. Mauritania until independence was part of French West Africa, and until 1973, when it joined the Arab League and started to align itself more with the Arab world than the former French colonial world, it was a member of the French West African central bank (BCEAO) and monetary union (the CFA Franc). So the answer to, "Is Mauritania a black sub-Saharan African country or an Arab North African one?" is by no means clear.