Chinguetti Mosque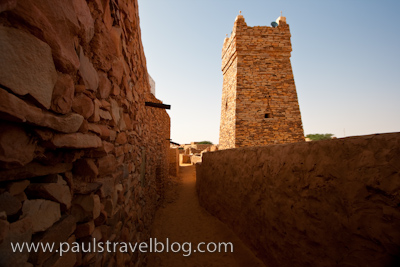 Chinguetti is one of the great cities of the Mauritanian Sahara, a place with an ancient history as a settlement, an island of culture and relative urbanity in the middle of a desert wilderness. Chinguetti is famous as a West African center of the Muslim faith, for its manuscript tradition attested to by thousands of volumes, and for its role in history. But like Timbuktu, a city of similar background about a thousand kilometers southeast across the Sahara, it is today almost swallowed up by the sands, clinging to its only remaining significance–that as a tourist destination.
Cemetery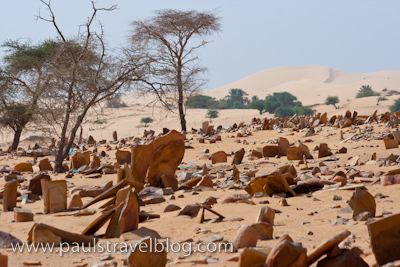 But quite a tourist destination it is. The ruins of the old town, charming minaret aside, are not much of a draw, but the location could not be more spectacular. The desert around Chinguetti is the real deal, the Sahara of one's wildest dreams. Fantastic dunes lie just meters from town; even higher dunes and romantic oases within a short 4×4 or camel trek away. Within reach are beautiful and desolate landscapes, archaeological sites and even an enormous meteor crater. With, believe it or not, direct flights to Paris, the Adrar (the region of Mauritania in which Chinguetti lies) is one of the most beautiful and removed, yet highly accessible, travel destinations I can think of, utterly peaceful and away from it all. [The flights were suspended for most of 2008 due to an incident near Christmas 2007 in which a French family was killed in a kidnapping attempt and to feared political instability following the 2008 (peaceful) coup in Mauritania. Quite contrary to the travel advisories, however, I could not imagine anything bad happening to a tourist in the parts of Mauritania that we visited (we had checked with the helpful U.S. embassy and a local Peace Corps volunteer before coming), and we only benefited from the resulting quietness and bargains on lodging–rooms were available for as low as USD 3.20 per person.]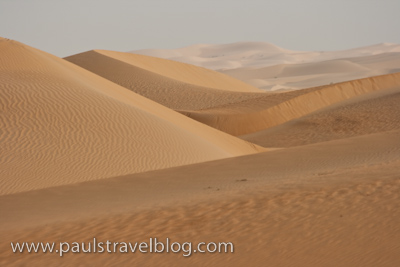 For others out on an extended trip, holidays can be sad times, reminding them that they're away on days they would normally be sharing with loved ones. Such travelers often gather around others of their nationality or religion at a backpacker or expat bar or restaurant, trying to recreate a sense of home. Frequently they'll send forth emails trying to make the situation sound as positive as possible–"Hey man, I'm enjoying Christmas from this beautiful beach in Thailand!"–but if you look closely, there's sadness. But we ourselves really aren't that big on holidays (see post of 11.27), and so Chinguetti is as good a place as any to spend Christmas.