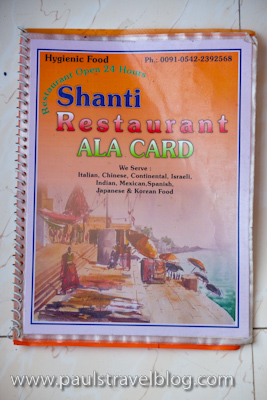 We do consider ourselves backpackers, but we usually don't stay at the most backpacker-y hotels–they just seem too much of a foreigner ghetto, too full, especially in India, of a type of person with whom we just don't feel like we identify all that well. However, when our lodging plans were seriously disrupted by unforeseen low vacancy rates at certain Varanasi hotels (oh, there is a Varanasi hotel room that is so dear to our hearts, but I dare not identify it here lest it become yet again impossible to obtain in a future Varanasi visit), we ended up at one of Varanasi's backpacker classics, the Shanti Guest House near Manikarnika (the Burning) Ghat.
Now, there's nothing wrong with Shanti Guest House. The pricing is competitive, the rooms comfortable if a tiny bit spartan (our first room was essentially windowless–just two laptop-sized openings in the wall for ventilation), the staff quite friendly and totally nonsense-free, and the location fairly prime. A nice feature, although one we did not take advantage of: They offer two free boat rides a day. But to give you a sense of how backpacker-y it is, there is a pool table and travel agency-cum-currency exchange at the rooftop restaurant, and English and Hebrew are the preferred languages of the guests.
But I'm not doing this post to review a hotel that is perfectly acceptable and nothing particularly outstanding. No, I'm writing to review its restaurant, which I found astonishing (although, to be fair, it could be one of many such establishments in India, just the only one we've come across). What was so special about this restaurant was the range of cuisine. Not only did it offer the usual, meaning Indian, some Indian-Chinese and some "western" (i.e. Italian/American-Italian) food, but the highly developed menu had extensive offerings in Israeli/Mediterranean (not uncommon in India), Japanese, Korean, Mexican and Spanish food. And I'm not talking just the odd spaghetti and falafel and instant noodles–no. The menu included an extremely wide array of dishes from all of these cuisines, and an excellent range of desserts to boot.
Large JPEGs of the menu: pages 1-2 (breakfast, pancake / deserts, omlates, chips & pakora, burger, cutlets, rolls, soup), pages 3-4 (korean & japanese, mix, pizza, cho-cho rice, bake food, italian food), page 5 (israeli and spanish)
Now, you may wonder about authenticity. In our experience, the hotel batted around 0.500 or so–not too bad, right?
Kimchi-jjigae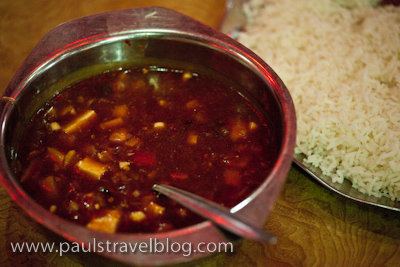 Of all of the offerings, Korean was the best. Not only was the Korean food bizarrely authentic (who makes the kimchi?), but the Korean menu was written in Korean script, along with a signed endorsement by the Korean backpacker (a Mr. Park Jong-Ik) who helped put it together. Of all of the Korean dishes, of which I tried several, the most puzzling was the jjajiangmyeon. Now, I know instant Korean-style jjajiang sauce is available but, given the prices, I think Shanti Guest House must make it from scratch–how is this possible?? (Also, given that the restaurant is supposedly open 24 hours, how is there someone always on hand who knows how to cook all of the dishes?)
Shashuka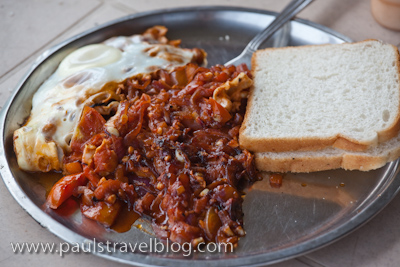 Next best, I think, was the Israeli/Mediterranean menu. As anyone who has traveled in India knows, the country attracts a huge number of Israeli backpackers. Even outside of the Israeli mini-neighborhoods of cities such as Pushkar and Udaipur, it sometimes feels like the Israelis outnumber all other tourists else combined, which is pretty astonishing considering how small a country Israel is. Anyway, Shanti's shashuka, an egg-based dish, was just as good as we had in Tel Aviv. The hummus, however, looked very, very odd.
We only tried one Japanese dish, but it didn't seem promising; the vegetable tempura came out surprisingly like vegetable pakora. Good enough pakora, but pakora (perhaps we shouldn't have been too surprised).
The oddest? The Mexican menu. Now, they clearly got parts of the idea of an enchilada right, and the final product was tasty enough (and certainly huge enough), but all the Americans who were around, perhaps cruelly, laughed when we told them that what was on our plate was supposed to be an enchilada. There were some Mexican guests in the hotel, too, but we don't know if they tried the dishes of their homeland, and if so, what they thought.
Enchilada and burrito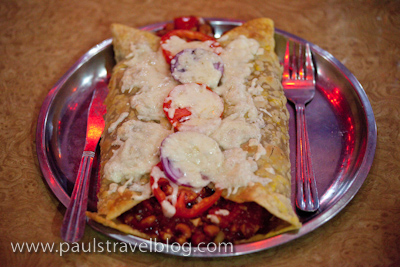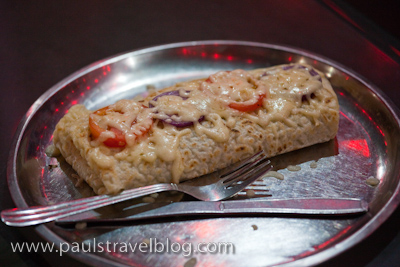 Finally, two nice surprises.
The macaroni in cheese sauce, with mushrooms or not, is an incredibly delicious and rich concoction, with a creamy oniony sauce that would be considered tasty anywhere in the world, let alone a Varanasi backpacker restaurant.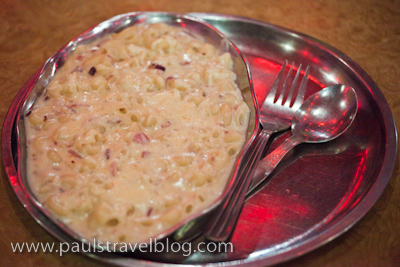 And, as any traveler knows, lack of tasty desserts is a great hardship of travel in much of the developing world. Shanti Guest House goes a long way to filling this gap with the "banana filter chocolate with ice cream." (I imagine they must mean "profiteroles.") As good as it looks (and better than the also acclaimed "Hello to the Queen").