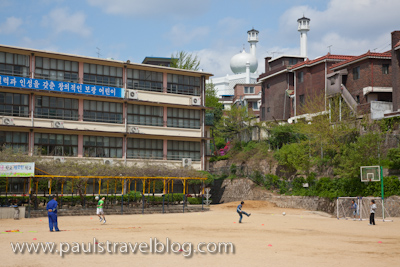 Korea is one of the most homogenous countries in the world–through most of history, save the many invasions, nearly everyone in Korea has been ethnically Korean and Korean-speaking. What regional dialects there are are largely mutually intelligible (though perhaps still surprising for such a small country), and outside of a small number of Chinese, ethnic minorities are virtually non-existent.
Well, things are changing, due to two great forces at work.
First, as has been much noted in the U.S. press, a relative lack of young women (as a result of historical sex selection by parents) and the undesirability in marriage of relatively poor Korean farmers have resulted in a large number of international marriages between Korean men and Vietnamese and other women from poorer Asian countries. This has led to quite a large number of Vietnamese women in the Korean countryside and resulting children of mixed marriages.
The second cause is Korea's prominence in the global economy. Korea is, more or less, a rich country now, and many people from countries around the world are attracted to live and work in Korea. This ranges from American, Canadian and Australian 20- or 30-somethings who get jobs teaching English to Uzbeks and Indians coming to Korea to work in factories. Among these of course are some Muslims, who have carved out a niche in Seoul.
I knew that there was a mosque in Seoul because I could see it from the Seoul Grand Hyatt, where I would occasionally stay on business, but didn't bother to seek it out until recently. As it turns out, there is in Itaewon (Seoul's primary "foreigner" neighborhood) a whole mini Muslim Seoul, an unexpected and interesting facet of the huge metropolis.
Sign for the Seoul Central Masjid, seen from the main road in Itaewon (note Dubai Restaurant)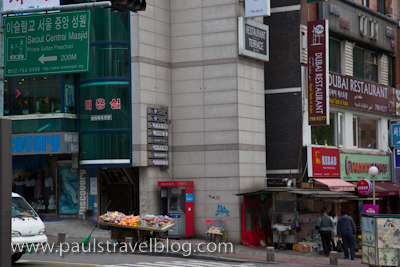 Gateway to the Seoul Central Masjid, just up the hill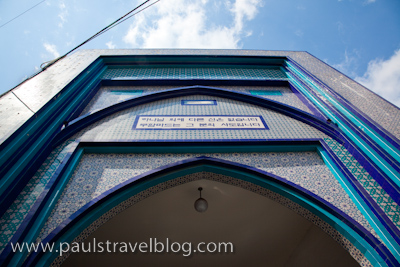 Seoul Central Masjid. While the mosque is located in Seoul's "foreigner" neighborhood, I was surprised to find several Korean Muslims inside. Since I do not believe there is any historical presence of Islam in Korea, I assume they are all relatively recent converts.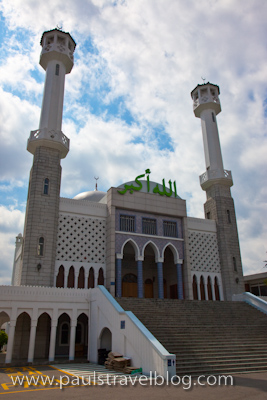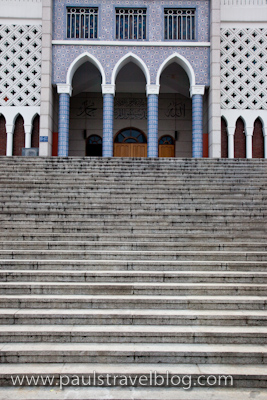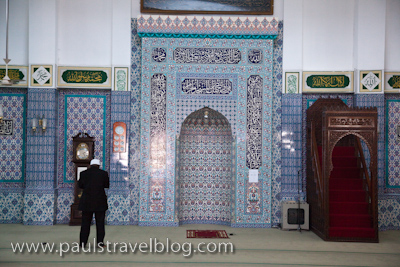 Islamic School attached to the mosque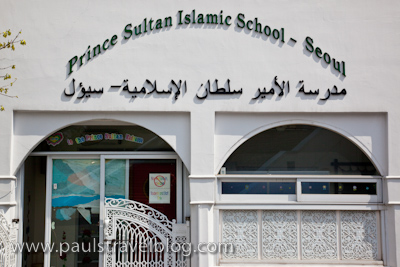 The mosque forms the center of a mini Muslim Seoul, complete with Islamic bookstores, travel agencies catering to Muslims and restaurants ranging from Pakistani to Uzbek to Turkish. We chatted briefly (in broken English and Korean) to a very nice Syrian man working at an Turkish/Arab sweets shop (many Korean women seem to drop by to flirt with him).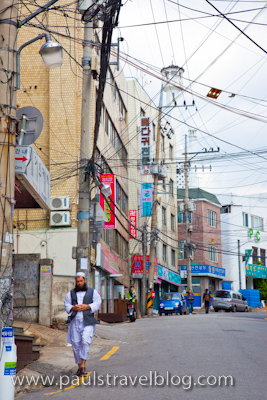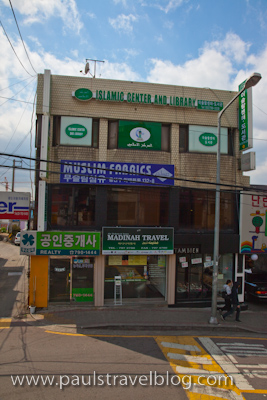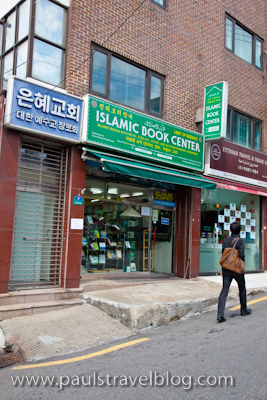 The Muslim footprint in Korea is not limited to Itaewon. Here, an Iraqi man carves up doner to patrons near Namdaemun market.