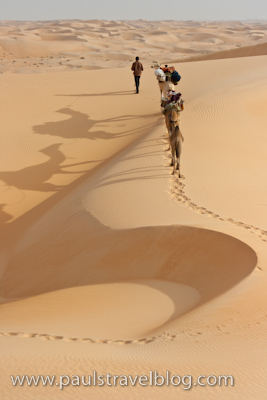 I've written before that, from an unfavorable perspective, the western backpacker in the developing world can be viewed as "slumming," visiting relatively poorer countries in order to witness/experience poverty and primitive conditions (see post of 11.19). I certainly would not generally agree with such criticism–the developing world has so much more to offer, in terms of history, and beauty, and the values of a more traditional world–but in at least one sense it is true: Backpacking, either traveling long-distance or hiking/camping with a backpack, is, for me, partly about deprivation.
Back in college, reading the Rule of Benedict in my medieval Latin class or the Life of St. Anthony for my senior paper in Ancient Studies, I used to daydream that I would have made a good monk. (A friend recently told me that such an attitude "belies a competitive streak incompatible with good monk-hood.") I am unlikely to give up my present life to become a novice, but I do believe that, especially back in a time in which people had relatively fewer career and lifestyle choices, being a monk would have offered the combination of a disciplined daily routine and ample time to think that I would have found satisfying. Part of my inclination toward that mode of living is something of an ascetic streak. As much as I love to indulge myself–who doesn't–I also believe that it's important to temper pleasure with abstinence, to maintain the supremacy of the mind over physicality, to enforce self control over bodily needs and wants, to exert oneself at times when one prefers not to, to go without.
It is partly this ascetic streak that I believe backpacking gratifies. To a "professional class" person living in a big city in the developed world today, there are so many comforts at our fingertips. We have the choice of eating and drinking whatever we want, products flown in from around the world and prepared according to an encyclopedia of styles. We have unlimited amounts of hot and cold water and electricity, and soft fabrics and cushions for our linens, upholstery and clothes. To get from place to place is a matter of hopping in some sort of vehicle, with limited walking, and elevators and escalators eliminate the need to climb stairs. We never have to lift anything heavy–there is usually a machine or someone else around to do that. If there is anything we need, we can simply buy it, at any of a number of stores. For work, we fly business class and stay in five-star hotels. What greater (temporary) antidote to all of this, all of this softness, than backpacking? On the road, we're forced to lug around heavy bags, day after day. We take twelve-hour-long share taxi rides, squeezed four in the back passenger seat, and sleep outside Milano Centrale. We walk for hours a day, carrying still heavy daypacks, and frequently miss meals or have very little choice of food. We're so used to having most anything we want; now, the things in our backpacks (see post of 12.05) are effectively everything we own, all that we have access to. Damaged shoes? It's slippers until we can find another pair that will do. Damaged recharger for the camera battery? No photos for no telling how long.
But this aspect of backpacking is not just about mortifying the flesh–it is about discovering what it is we really need, in order to live a rich and fulfilling life, and what is superfluous; it is a way to remind ourselves that so many things in our world back home are really just distractions, things we shouldn't value highly or let get in the way, from the sorts of interactions and experiences that really matter, that are so much more valuable. It is also a test of what our bodies can endure, how much discomfort is surprisingly tolerable as long as we don't let it get to us psychologically; bodily pleasure is, generally, relative. I know all of this may sound phony, given that I enjoy the luxury to travel for so long and mostly with all the modern conveniences, but it is heartfelt.
****
I have been forced to think about this because we just got back from a four day camel trek to see the Saharan scenery outside Chinguetti. How to convey to you the basic conditions on the trek? We paid roughly USD 16 per person per day, including not only our camels, but our guide and meals. And, we learned on our first day that it's called a camel "trek" for a reason–most of the traveling is actually done by foot, not on the camels, because the camels cannot negotiate steep dunes with people on their backs, and naturally our route stayed mainly on the most picturesque high dunes. So there we were, in the Sahara, walking up and down mountains of sand, following our guide and three camels. We would break for lunch cooked over an open fire–pasta with tomato sauce and a can of sardines–and then continue again, trudging up and down the dunes, until we stopped for dinner cooked over an open fire–pasta with tomato sauce and a can of sardines–and sleep, in our sleeping bags under the starry sky.
All the water we had was that which we had on us or could draw from oases–enough for drinking and cooking but certainly not bathing. All the food we had was that which we brought with us–there was nowhere for extra provisions. Fortunately we had some cloud cover, to keep down the heat and the glare of the sun, but we also feared rain–believe it or not, there has been rain in Chinguetti–given that we had no cover.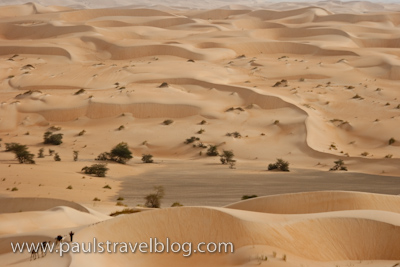 It's almost absurd–why do we tourists do this to ourselves? Whether in India, or Egypt, or here–why go on these multi-day camel trips? We say that it's to see the dunes, or to achieve a sense of solitude, but really it is as much about deprivation. However temporarily, it is about living in a way that allows us to recognize the essentials of life and really appreciate the simplest pleasures. A can of sardines, perfectly edible anywhere, becomes delicious in the desert; a simple cup of tea, so refreshing and renewing. Your limbs sink into a state of blissful comfort when it's time for a break, the weight of your head off of your shoulders such a relief when you lie down. The freshness of the evening, as it sets in when you're about to sleep, feels as good as any blast of air conditioning in the hottest of summer. Unmolested by the frenetic stimuli of city life, your mind reaches a state of relaxation such that most everything seems carefree, enjoyable, and even funny. You laugh spontaneously. It feels like, if you spent just a few more weeks in the desert, with the newfound clarity of your mind you could solve not only all of the problems in your life but all of the mysteries of the universe. Your senses become heightened, and so many things become, taken in isolation, so lavish, so curious, so beautiful. The cool sand, a few inches below the surface heated by the sun, that your bare foot digs into. The movement of the camels' lips as they pluck food from the branches of the thorny trees.
Sunlight cast against the sharp reliefs of your own footprint, against the ripples of the dunes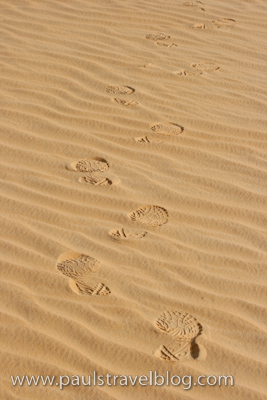 The wonder of an oasis, palm trees objects of luxuriant beauty and shade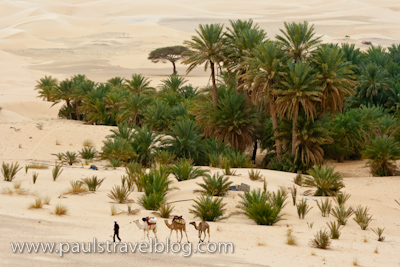 But the hardship does get to you. Even with a mere three and a half days of deprivation, I started looking forward to my first bottle of cold soda, and my first night back in a bed, when I got back to town. I was reminded not only that there are many things that I do not need, but that that there are many things that I enjoy and take for granted. I thought about all the choices of food I normally have, and the special traits and qualities of each one that make it so pleasurable. I imagined myself drinking all sorts of beverages, each one tastier and more refreshing than the water we had on hand. I was in a delightfully lighthearted mood, and knew that it was a result of being out in the desert, but still wished to be back in town. And, in the afternoon of day four, we were back in Chinguetti.
And so you get back, but your mind goes back to the desert…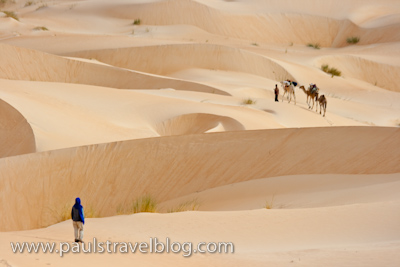 As we surround ourselves with worldly things, and become ever caught up in the complexities of modern living, how do we return ourselves, at least in spirit, to the state of the desert, to the state of the trail, to the state of the wandering road? How do we maintain perspective? Is it enough to go backpacking a couple times a year? Is meditation the solution? Or should we incorporate deprivation into our daily lives? Back home, a concerted effort to reduce our worldly possessions might result in the disposal of only an ugly old coffee mug or a book that I've read and didn't like. But now, a year away from it all, it all seems expendable. Why can we do without it for a year but not the rest of our lives? Is it even possible to achieve the desert frame of mind, such power of perception, in our everyday settings? These are all questions that merit so much more of our consideration than we usually accord. And, as we gradually approach the end of our year's journey, they become more and more essential.