We really didn't know what to expect, for food, when coming to West Africa. We had never heard of Senegalese or Malian or Mauritanian food, and had no idea what they were like. We also knew from prior experience that, particularly in poorer countries, there can be a pretty big gap between the best of local cuisine (elaborate and delicious, but prepared only in private homes or for special occasions) and what is available for tourists (crude, dumbed down version of local cuisine or faux-western dishes), and feared that we would be reduced to eating plate after plate of quasi-French (bad steak frites) or spaghetti. One thing we definitely did not expect was a great cuisine–we figured that if there were something all that great, we would have heard of it by now, and seen restaurants serving it in the U.S.
Well, were we wrong. Mali and Mauritania don't really have much of a cuisine of their own to speak of, but Senegalese food can be phenomenal, and I would rank at least a couple of Senegalese dishes among the tastiest in the world. Not only are restaurants great in the Senegalese capital of Dakar, but well-prepared Senegalese food can be found all over West Africa, in recognition of its place as the region's finest cuisine. Revealing my ignorance, I learned that Senegalese food is also available in other parts of the world, particularly in France but also in American cities such as New York and Chicago. And so, at least when he's lucky, the tourist in Senegal, Mali and Mauritania gets to eat good Senegalese food, and that is the main focus of this post, although I include below some non-Senegalese dishes as well.
The queen of Senegalese food, and one of the greatest dishes in the world, as far as I'm concerned, is tieboudienne.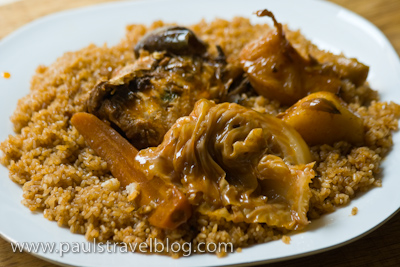 Tieboudienne is the French transliteration of the Wolof (the majority language in Senegal) name for the dish, which simply means rice with fish. But the dish is much more complicated.
First, the rice.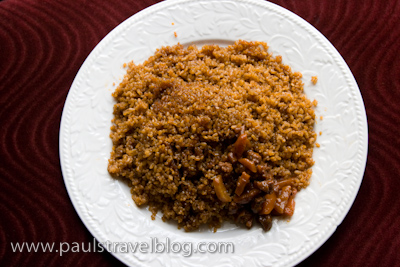 The rice, as you can see, is highly seasoned, and simply delicious to eat alone. Perhaps peculiarly, the Senegalese use broken rice, and cook it quite al dente, so that the rice has an almost couscous texture to it, quite pleasing in the mouth.
Then, the fish (and vegetables).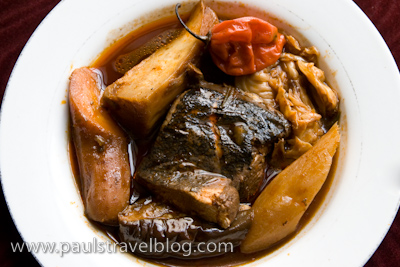 Fish is caught in plenty in Senegal, and that shows in the generous portion of delicious meaty flesh that usually comes with your tieboudienne. In addition to the fish is an assortment of vegetables, including usually carrot, potato or cassava, cabbage and eggplant. My favorite way of eating tieboudienne is to eat, with knife and fork, amounts of fish and vegetables in proportion to the rice I eat, alternating the vegetables such that, with my five last forkfuls of rice I have one small piece of each vegetable remaining. What fun in resource management!
A fancy tieboudienne, at a top Dakar restaurant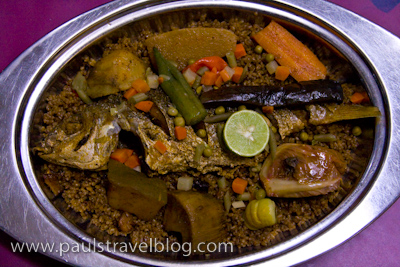 Perhaps the best thing about tieboudienne is not how tasty it is, which is of course true, but that it is considered the most basic Senegalese dish and therefore always available, even at the eateries. I can think of few places where the most basic item on a menu is so flavorful, complex and worthy of repeat eating. We never had a bad tieboudienne in Senegal (or Mali or Mauritania), no matter where we ate it, and since it's considered a sort of common dish, it is also very cheap–as cheap as USD 1 or 2 in Senegal, Mauritania or Bamako (sadly, good Senegalese restaurants are harder to find in Mali outside of Bamako).
The second greatest dish of Senegalese cuisine is yassa. You can get yassa with chicken, or fish, or anything else I suppose, but the most common is chicken.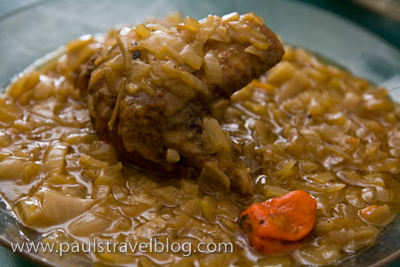 Yassa is basically a very heavy oniony sauce, almost akin to French Onion Soup (is it possible that there is a relationship between the two?), and sometimes a little sour, as if the sauce is allowed to ferment, ever so slightly. Like tieboudienne, we never had a bad yassa, although the variation in quality was somewhat greater (tieboudienne is always delicious, yassa sometimes just so-so).
Yassa poisson–sorry for the messy plate!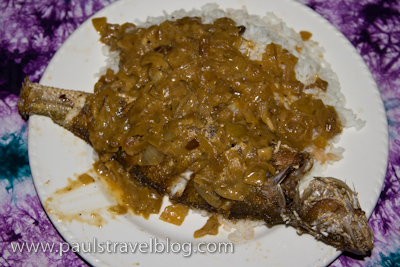 A rather poor yassa, served with pasta in Djenne. Note how scrawny the chicken is! This plate cost USD 4.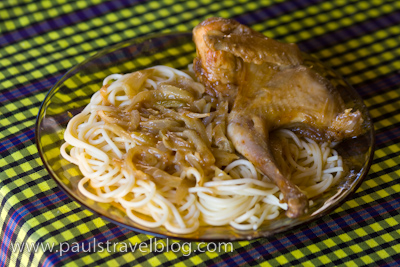 A third Senegalese specialty, although one which it has to share with the rest of the region: mafe. Also known as sauce arachide, or peanut sauce, mafe is meat, often beef or mutton, in a rich peanut-based sauce. When done properly, or at least according to the style that i found myself preferring, the flavor is much darker and richer than the peanut sauce that is served in Southeast Asia to be eaten with your satay.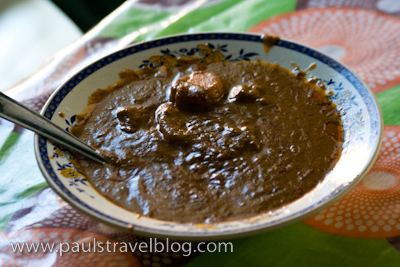 Also common, though less appealing, is soupe kandja. Kandja, strictly speaking, is not a soup at all, but a sauce to be eaten with rice, like mafe. It is primarily made, it seems, with okra or some other kind of starchy, slimy green. For people turned off by okra (which includes me), kandja is somewhat offensive, due purely to texture.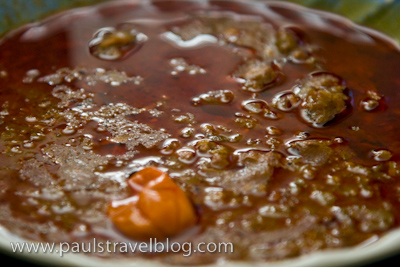 Served onboard our ship to Timbuktu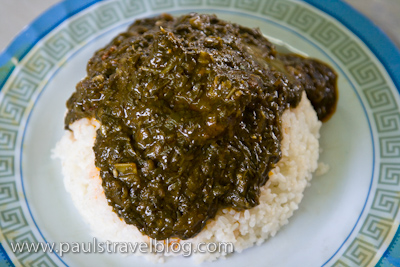 As I've said before, much of a traveler's time in West Africa is spent on the road, in share taxis or buses, and with the long rides at least some of your meals will be taken on the road as well. A few pictures showing the kinds of meals one is likely to have while traveling on the West African road.
One of the most basic roadside foods, which could almost be described as primitive, is roasted sheep. Roasted sheep is common in Senegal, Mali and Mauritania; the quality was clearly the best in Mauritania, but in Senegal the meat came with spices (cumin). Super greasy.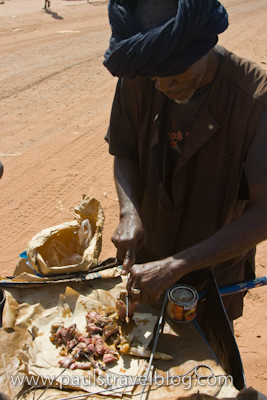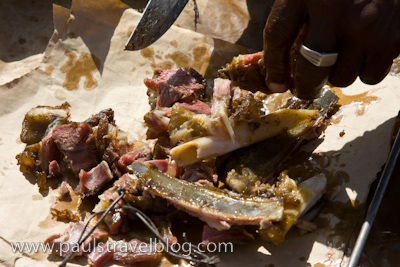 Breakfast usually means coffee and eggs at a roadside stand. The simplest way to eat the eggs, for a traveler, is a sandwich to go. A basic omelette, perhaps with onions, inside a baguette–not a bad way to start the day.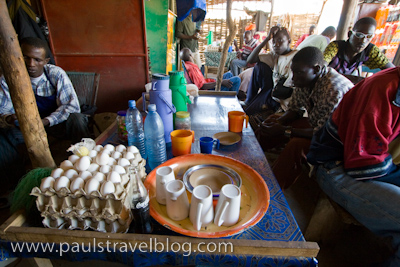 The selections that might be available at a basic eatery that a luckier traveler's bus might stop at. Nothing to complain about, in quality.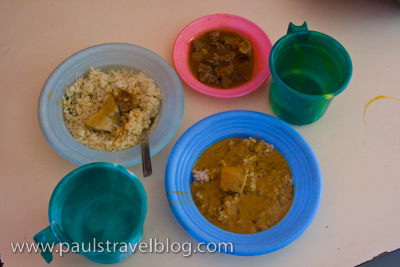 Eating more local.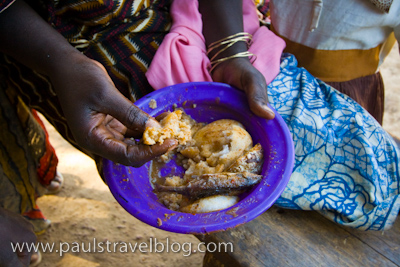 One big and very welcome surprise in Timbuktu was that the food was among the best we'd had in West Africa outside of Dakar. While our hosts at Sahara Passion fed us well and included meals with the family in the reasonable cost of the room, a couple of restaurants in town are definitely worth noting and visiting.
As a sign that you are approaching North Africa, couscous and brochettes appeared on more menus. Here, couscous with vegetables and brochettes with sweet potato fries, at the excellent–food well exceeding the deceptively simple setup, to be sure–Amanar, near the Flamme de la Paix.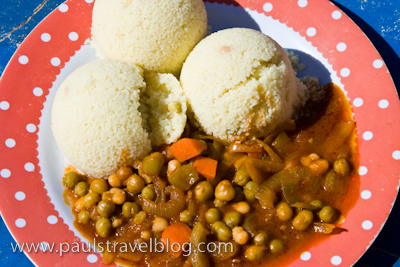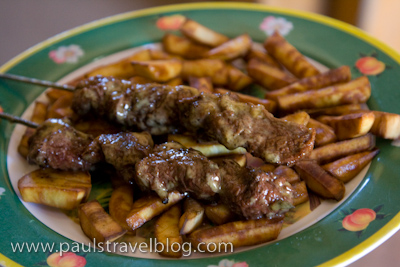 Even more impressive than Amanar was the Poulet d'Or, located inside Timbuktu's Marche Artisanal. The food took a while to arrive, but it was all excellent, including this presentation of a local specialty, toukassou. The big loaf in the middle surrounded by a meaty stew is a huge round spongy bread, not too dissimilar from the "dumplings" served in Czech food.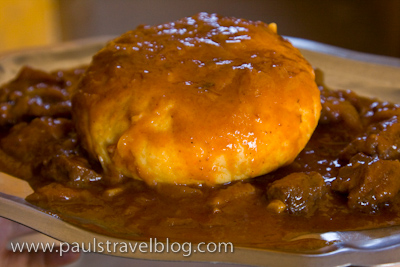 Our Tabaski feast (see post of 08.12.08)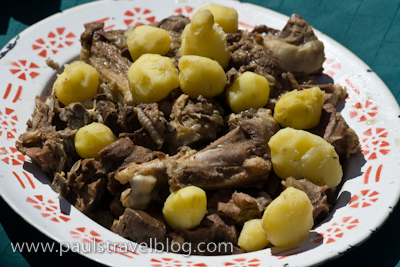 And some local beverages to wash it down!
Despite the fact that Senegal and Mali are solidly Muslim countries, they fall in the category of Muslim countries with alcohol, such as Turkey and the ex-Soviet Stans of Central Asia. (In Mauritania, all alcohol is banned, although the local authorities never found the half-drunk bottle of Jim Beam which we have been carrying for so long on our trip.) First, a Senegalese beer, against a Dakar sunset. Second, a Malian beer, with the Mopti port in the background.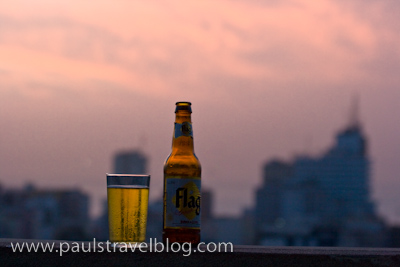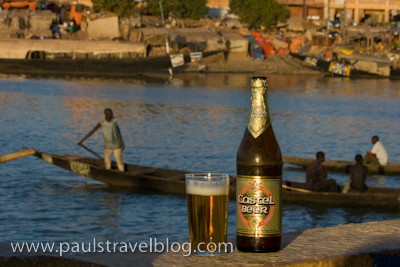 But we're not big drinkers. Far more appealing was bissap, pictured to the left, which is a cool drink made with hibiscus leaves (also known as kalkade, e.g., in Egypt). The drink on the right is bouye, made from the fruit of the baobab tree. Also delicious. The third picture is little baggies of bissap and a sort of ginger tea, often sold on the street (and of questionable food safety).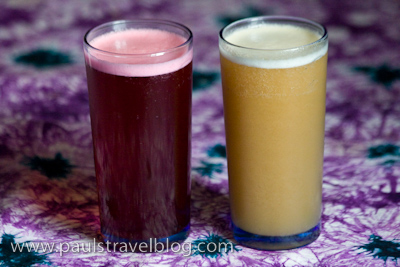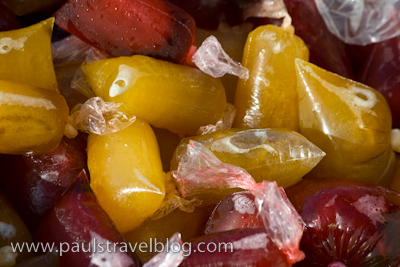 Coffee Touba. Touba is a city in Senegal known best for spiritual leadership and second for coffee.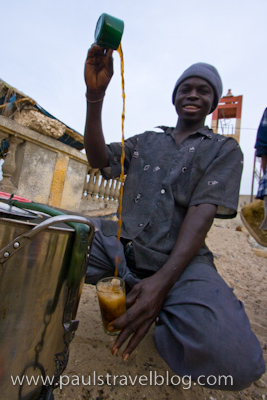 In Mali and especially in Mauritania, tea is king, made in an elaborate ritual involving much pouring back and forth to cool and generate froth.